Cinnamon Toast Crunch Bites Are Basically Cereal in Donut Hole Form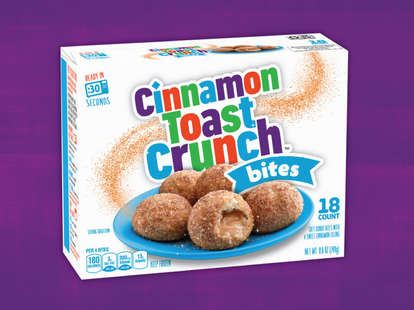 There's a new way to expand your very-adult cereal diet, if that's what you're into: Cinnamon Toast Crunch, but encased in delicious, donut-hole form. General Mills announced a new slate of products to fuel your addictions this week, including these new Cinnamon Toast Crunch Bites.
These donut holes are inspired by the classic General Mills cereal Cinnamon Toast Crunch (aka the best breakfast cereal ever created and the single best milk-flavoring substance on the planet), and will be available for the remainder of the summer. They're meant to be sold frozen and popped in the microwave. Nuking them for 30 seconds will melt their innards into a warm, sugary, cinnamon-infused goo that promises to awaken all of your best childhood sense memories of watching cartoons and bouncing off the walls of your poor parents' living room.
They should be available for purchase by the end of July, wherever frozen cereal and sugar rushes are sold. And if you run out of them, make yourself a boozy Cinnamon Toast Crunch milkshake instead.
Sign up here for our daily Thrillist email and subscribe here for our YouTube channel to get your fix of the best in food/drink/fun.