These Are the Cities with the Most Influencers Per Square Mile
The number one city will definitely surprise you.
In 2023, advertising is not an industry as much as it is a lifestyle. Influencers are the living embodiment of our capitalist-consumption craze, with social media posts that can sway you to do anything from buy a $200 red light face wand (I want one sooooo badly) to invest in an entirely fraudulent form of currency. There are influencers for every kind of person and interest. You've got the classic travel and food types posting photos that inspire wanderlust and watering taste buds, the bikini influencers, the video game influencers. If it is something you can spend money on, there's someone out there encouraging you to do so.
As a market, influencing is a $13.8 billion industry—which means there are a lot of influencers out there who you might encounter on your next trip. TopRatedCasinos has analyzed heaps of data to determine which cities are most popular for influencers relative to their size.
1. Santiago, Chile, 150 influencers per square mile.
2. Washington DC, United States, 149 influencers per square mile.
3. Madrid, Spain, 113 influencers per square mile.
4. Delhi, India, 94 influencers per square mile.
5. Amsterdam, Netherlands, 88 influencers per square mile.
6. Rabat, Morocco, 70 influencers per square mile.
7. Jakarta, Indonesia, 53 influencers per square mile.
8. Mexico City, Mexico, 48 influencers per square mile.
9. Rio de Janeiro, Brazil, 45 influencers per square mile.
10. Taipei, Taiwan, 37, influencers per square mile.
These figures were calculated based on the total number of influencers in each city and the square miles of the city. Santiago is home to 37,138 influencers, with 150 influencers per square mile. That's a whole lot of content creation going on. You can see the complete list with additional details below.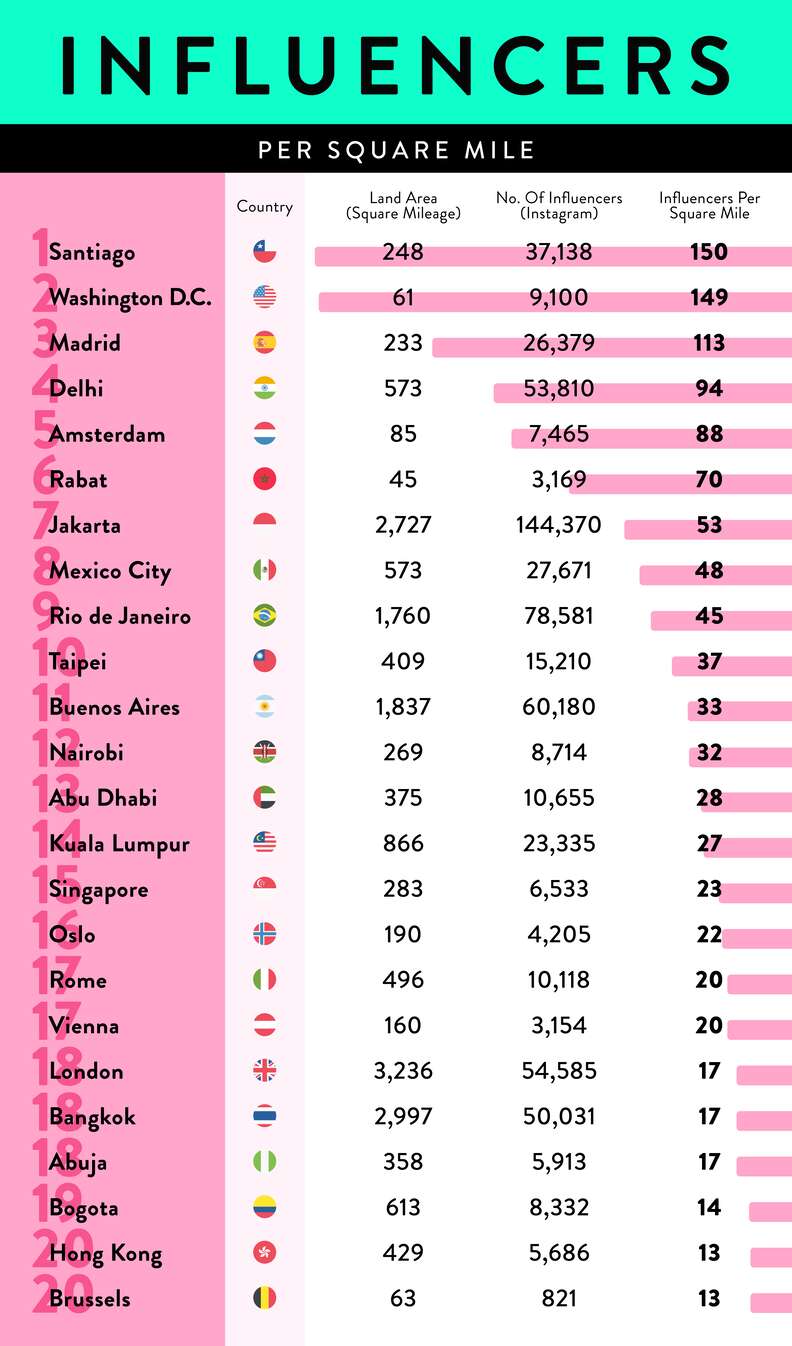 The new analysis also shared which creators are the top earners across various social media platforms. On TikTok, Charli D'Amelio is still bringing in top dollar, while on Instagram footballer Cristiano Ronaldo is making the most money, based on data from Statista.
You can find the complete study on TopRatedCasinos, and contemplate if you should launch your influencing career in a new city.