Here Are the Cities With the Most $100K+ Jobs Right Now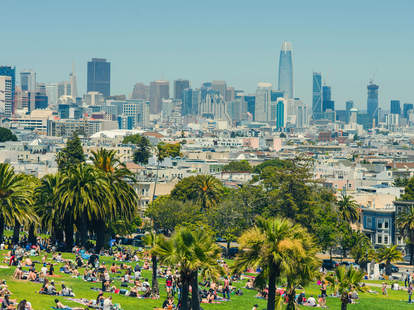 Unless you get that job traveling as a professional Christmas elf, working is pretty much going to suck. The best you can do is try to manage the amount of suck, and one way to do that is to get paid a bunch of money for the menial and meaningless tasks you're completing. Have you ever sat down and considered, what if selling out is good?
Before you call up your ethically dubious uncle and to join his nefarious business, maybe just try looking for a job in the right place. Like one of these 15 cities, which have the most jobs paying over $100,000 of any cities in the country. This handy list comes via Ladders, which regularly releases reports like this one. To be clear, we're not guaranteeing that if you show up in one of these cities that you'll immediately be richer than your shady uncle, but it'll help your cause.  
The 15 Cities With the Most $100K+ Jobs
15. Baltimore, Maryland - 4,020 jobs available
14. Austin, Texas - 4,183 jobs available
13. Minneapolis-Saint Paul, Minnesota - 4,402 jobs available
12. Houston, Texas - 5,177 jobs available
11. Denver, Colorado - 6,405 jobs available
10. Atlanta, Georgia - 7,964 jobs available
9. Philadelphia, Pennsylvania - 8,600 jobs available
8. Dallas-Fort Worth, Texas - 8,819 jobs available
7. Seattle, Washington - 8,986 jobs available
6. Chicago, Illinois - 11,555 jobs available
5. Los Angeles, California - 12,942 jobs available
4. Boston, Massachusetts - 13,802 jobs available
3. Washington, DC - 17,478 jobs available
2. New York, New York - 23,325 jobs available
1. San Francisco, California - 28,917 jobs available
As an observant person worthy of a six-figure salary, you probably noticed immediately that there's a big gap between the number of jobs available at the top and bottom of this list. San Francisco, which came in first, has around seven times as many high-paying positions as Baltimore did in last. But since you'll be living in the most expensive city in these United States, even your $100,000 won't go quite as far. And in Baltimore, you won't have to be around as many tech bros. And there's no dollar amount you can put on that. 
The only other city to break 20,000 six-figure jobs was New York, which has its own litany of annoyances and pretensions, so we encourage you to also check out cities like Washington, DC, Los Angeles, Boston, and Chicago. And, again, we can't stress this enough, you'll have money to spend on other fun and fulfilling things that will make you actually enjoy your time outside the office, instead of just struggling to afford the crawlspace you've leased. 
If you're more interested in living safely than living rich, check out this list of the safest cities in the US. We're not here to judge your priorities. 
Sign up here for our daily Thrillist email and subscribe here for our YouTube channel to get your fix of the best in food/drink/fun.