Classic 'RollerCoaster Tycoon' Is Finally Available on iOS and Android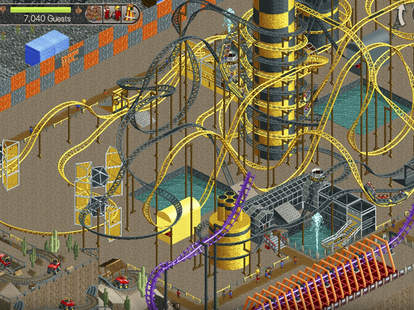 Thanks to the blockbuster releases of Pokémon Go, Nintendo's NES Classic Edition, and Super Mario Run, 2016 has been a helluva year for nostalgia-inducing gaming. And just when you thought you'd gone down memory lane enough this year, Atari just dropped a huge surprise that'll transport you right back the late '90s/early 2000s: classic RollerCoaster Tycoon for your smartphone and tablet. 
The throwback game is fittingly titled RollerCoaster Tycoon Classic and it combines all the best features from the old RollerCoaster Tycoon and RollerCoaster Tycoon 2 games you played for hours at a time on your family's old Gateway desktop computer, but enhanced for playing on your phone screen. It's available to download right now via Apple's App Store for your iOS devices and the Google Play store for your Android devices for $6. But, fortunately, it doesn't involve a crapload of annoying in-app purchases like recent RollerCoaster Tycoon mobile titles.
In fact, the only in-app purchases in the game are content packs that bring you the "Time Twister" and "Wacky Worlds" expansions from RCT2 for $2 each, as well as a ToolKit that equips you with a Park Scenario Editor, Ride Designer, and the ability to import/export your parks from your friends and from RCT2 on PC if you still have those files lying around for some reason (another $6). All said, you'll have to drop $16 to fully unlock the game.
Here's how Atari describes the game on the App Store:
"RollerCoaster Tycoon Classic is a new RCT experience, combining the best features from two of the most successful and beloved RCT games in the series' history -- RollerCoaster Tycoon and RollerCoaster Tycoon 2. 
Create and run amazing parks complete with the most outrageous rides imaginable. RCT Classic includes a mixture of authentic playability, depth of gameplay and unique graphical style of Chris Sawyer's original best-selling RollerCoaster Tycoon PC Games, now enhanced for handheld devices."
This is all to say you may no longer need to download a bunch of movies for your holiday travels this week. Now, you've got hours of constructing insane coasters, slaughtering innocent Sims on deathtrap rides, and hiring handymen to clean up all that puke on your paths to look forward to.
Sign up here for our daily Thrillist email, and get your fix of the best in food/drink/fun.
Tony Merevick is Cities News Editor at Thrillist and is officially taking the day off now. Bye. Send news tips to news@thrillist.com and follow him on Twitter @tonymerevick.