This New Machine Sucks CO2 Out of the Atmosphere, So Maybe We're Not Doomed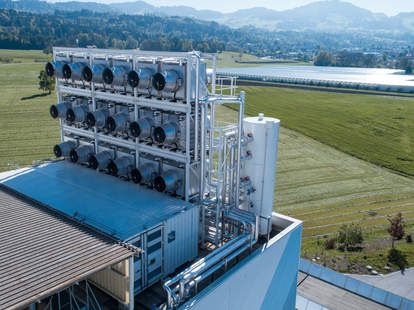 Any sane, science-believing person knows that the only way to prevent the planet from devolving into an apocalyptic hellscape brought on by climate change is to make some monumental changes to how we live. Like, yesterday. Ultimately, that means drastically reducing carbon emissions, which -- thanks to exponential population growth, weak climate regulation, and general apathy -- is an increasingly daunting task, to put it mildly. Luckily, a team in Switzerland has engineered a giant new machine that extracts heaps of carbon dioxide from the atmosphere, and it may just be the thing to save us all from a fiery fate.
Climeworks/Julia Dunlop
This ambitious plan to capture tons of CO2 from the air was dreamed up by the Swiss startup Climeworks, which just unveiled its first commercial plant in a rural region just outside Zurich. The particular setup, which resembles a series of enormous A/C exhaust fans stacked atop one another, can suck a whopping 900 tons of carbon from the atmosphere in a given year, or roughly the equivalent of what 41,000 trees can absorb in the same period. It does this by essentially sucking air into large sponge-like filters, which are heated up once they're fully saturated in order to release the C02 in its pure form.
Of course, all that CO2 needs to go somewhere, and Climeworks knows just what to do with it. Selling captured carbon is part of the business plan. They plan to pursue customers in the food and beverage industry, who use it for carbonation and dry ice, as well as other companies that produce things like plastics and building materials. In fact, this debut system outside Zurich is connected to a large greenhouse, which pays to have the collected carbon pumped in to accelerate the growth of lettuce and vegetables (reportedly this can boost growth by some 20%).
Eventually, Climeworks expects that companies will also be paying to have tons and tons of carbon collected and stored underground -- rather than planting thousands of trees -- as a means of meeting their obligation to offset their own carbon footprint.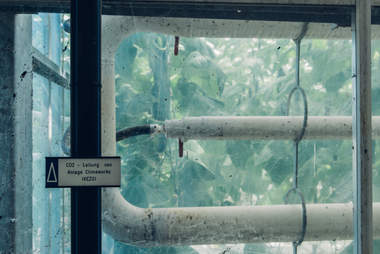 Climeworks/Julia Dunlop
A single carbon capturing machine (e.g., one fan/filter setup) can take in 50 tons of carbon a year, and Climeworks claims it can outfit systems like the one it just opened outside Zurich in all different sizes and capturing capacities. However, as impressive as those numbers may seem, even one monstrous Climeworks machine isn't going to cut it. Not by a long shot. In fact, in order to meet the "two degree" target (a broad goal of preventing the earth from warm any more than 2 degrees celsius), we'll need to start sucking a whopping 10 gigatons of CO2 from the air every single year. To get even close to that, there would need to be hundreds of thousands of Climeworks plants like this one up and running all around the world. 
Critics are hesitant to put too much faith into the carbon capturing process Climeworks is investing in, since scientists and climate change experts don't want to downplay the many, many other hurdles to clear (and behaviors to change) in order keep the planet and everyone on it from frying down the road. However, despite its relative infancy, it's tough not to see this process -- and the potential for the negative emissions industry at large -- as a glimmer of hope.
h/tFast Company