Coca-Cola Is Making Its First-Ever Alcoholic Drink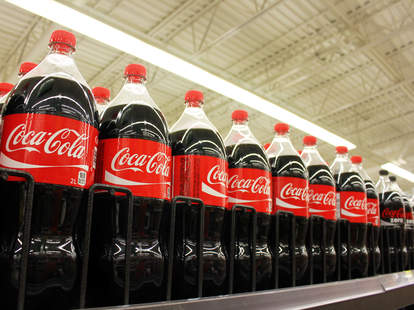 You might say Coca-Cola is in the throes of an identity crisis. Earlier this year, the company announced a thorough rebrand of the Diet Coke can, complete with new colors and flavors like Twisted Mango and Zesty Blood Orange. Last summer, the company also pulled Coke Zero from circulation, and dabbled in Coke-flavored coffee. What seems like a frenetic attempt to fend off competition from companies like La Croix is now prompting Coca-Cola to try something bold: its first-ever alcoholic beverage. 
According to a report by the The Financial Times, the Coca-Cola Company is launching a Chu-Hi infused beverage in Japan. Chu-Hi is a canned, sparkling drink infused with a local alcoholic beverage called shochu, which is made from distilled barley, rice, sweet potatoes, and other ingredients. 
In an interview posted to Coke's website, Jorge Garduño, the president of Coca-Cola Japan, said: 
"We haven't experimented in the low alcohol category before, but it's an example of how we continue to explore opportunities outside our core areas."
Coke is betting big on the popularity of Chu-Hi, which comes in fruity flavors, similar to its refurbished line of Diet Coke. But it'll likely have to jockey for visibility among the bevy of Chu-Hi peddlers already thriving in the country.
CNN Money notes that Japan has provided the fast-paced marketplace Coke needs to experiment with new innovations that could potentially become its bread and butter; the company launches about 100 new products in the country every year. A company spokesperson declined to confirm to The Wall Street Journal whether Coca-Cola has any ambition to sell alcoholic drinks outside of Japan. 
Chu-Hi is typically between 3% and 8% ABV, so Coke isn't necessarily trying to reinvent FourLoko. Although it's launching far away from your local soda fountain, you can take solace in the fact that adult sodas are already pretty prevalent stateside, as well. 
Sign up here for our daily Thrillist email and subscribe here for our YouTube channel to get your fix of the best in food/drink/fun.
 
Sam Blum is a News Staff Writer for Thrillist. He's also a martial arts and music nerd who appreciates a fine sandwich and cute dogs. Find his clips in The Guardian, Rolling Stone, The A.V. Club and Esquire. He's on Twitter @Blumnessmonster.