Cinnamon Coca-Cola Is Back On Store Shelves Just In Time for The Holidays
It's "cinnamon, spiced, and everything nice."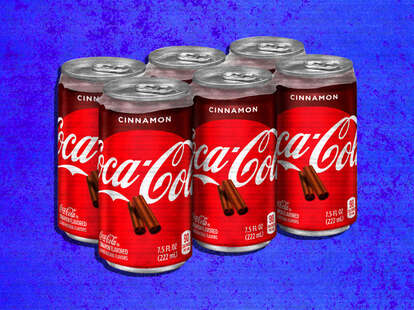 Back in 2019, Coca-Cola released a spin on its classic soda that can only be described as Christmas in a can. The cinnamon-flavored Coke swiftly left store shelves following its holiday run. Now, the "cinnamon, spiced, and everything nice" soda is heading back to retailers.
Coca-Cola has officially restocked its Cinnamon Coke for a "limited time only," People reports. A rep for the brand told Thrillist that the product would in fact be returning for the holidays inn 20-ounce bottles in select markets.
"The most festive flavor of the season is back! Get this limited-time fall favorite and enjoy the original taste of Coca-Cola with a dash of cinnamon," the company wrote on its website.
ICYMI, the brand first introduced the holiday-inspired Coke to its US flavor portfolio in 2019, but prior to its stateside debut, the soda was available in across the UK. This also isn't the first time the company has trialed its products elsewhere before making an introduction here.
Back in August, Coca-Cola finally brought its coffee-infused soda to the United States following its wildly popular run in Japan and other international markets. The beverage, which boasts double the caffeine of your typical can, features the brand's patented cola flavor alongside Brazilian coffee. And you can get it in three different flavors: dark blend, vanilla, and caramel.
Sign up here for our daily Thrillist email and subscribe here for our YouTube channel to get your fix of the best in food/drink/fun.
Megan Schaltegger is a staff writer at Thrillist.