Coca-Cola Now Has a Clear Coke That Looks Just Like Seltzer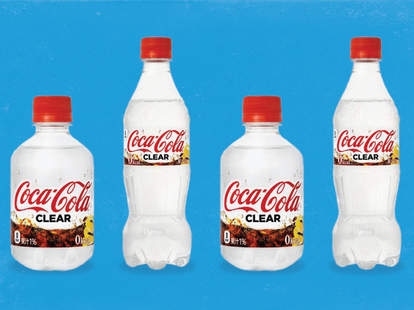 Maggie Rossetti/Thrillist
Everything about Coke smacks of familiarity. But in Japan, where Coca-Cola likes to test out new ways to reinvent its signature product, Coke gets weird. So if you're not privy to Coca-Cola recently dabbling in alcohol-infused and coffee-based drinks, then the company's newest offering, a completely clear and calorie-free version of Coke, might seem like a shock. 
Coke will unveil the translucent, carbonated beverage in Japan on June 11, depriving its stateside consumers of yet another novelty soft drink. Kotaku reports the company developed the drink at its American headquarters after ditching its usual caramel flavor in favor of a lemon twist. In total, 50 samples were created before the company settled on the final product, which ultimately will never see the light of day in America. 
This isn't the first time a major soda purveyor sapped the color from its flagship drink: In the '90s, Crystal Pepsi served as the gimmicky cousin to Coke, making a pretty minor splash before getting pulled (and later resurrected). 
In any case, clear Coke should probably give you another reason to trek out to Japan, what with its culinary playground of towering ramen bowls and Nicholas Cage candy sticks. But if you're keen on sticking it out stateside, we'll always have Zima. 
Sign up here for our daily Thrillist email and subscribe here for our YouTube channel to get your fix of the best in food/drink/fun.
 
Sam Blum is a News Staff Writer for Thrillist. He's also a martial arts and music nerd who appreciates a fine sandwich and cute dogs. Find his clips in The Guardian, Rolling Stone, The A.V. Club and Esquire. He's on Twitter @Blumnessmonster.