Coffee mate Wants You to Choose Its Next Holiday Flavor
Do we go chocolate chip cookie or hot cocoa!?!?!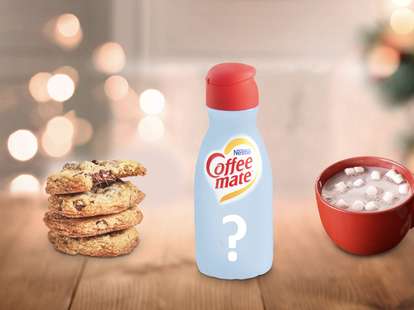 Coffee mate
Coffee mate
Personally, I'm grappling with the fact that Tuesday is July 1 while I'm still mentally processing March. But that's neither here nor there because we've gotta recalibrate our brains and calendars to December for a minute. Coffee mate's working on a new coffee creamer flavor for the holidays and it needs you to help decide. Our Christmas morning cup of joe depends on it.
The Nestlé-owned brand is looking to customers to help decide between two flavor front-runners: hot cocoa or chocolate chip cookie. And while 1,500 fans have already voted (with chocolate chip cookie commanding the lead), you've got one more day to weigh in. The poll's open on Twitter but only through midnight June 30.
"We've been dreaming about our seasonal Coffee mate flavors and we bet you have too," Coffee mate tweeted June 23. "Any guesses on what this year's flavor will be: Chocolate Chip Cookies or Hot Cocoa?"
While it may seem a bit premature to start celebrating the holidays this far out, don't act like you want to wait until December for a taste. The limited-edition creamer will hit store shelves -- along with the rest of the company's seasonal lineup -- in September.
But if you're anything like me (wildly impatient) that isn't nearly soon enough. Luckily, Coffee mate is also giving away a bottle of the creamer before that official launch date. Just follow @coffeemate and vote in the poll before it closes for chance to score the winning flavor -- which, at this rate, it's looking like chocolate chip cookie's the shoe-in.
Sign up here for our daily Thrillist email and subscribe here for our YouTube channel to get your fix of the best in food/drink/fun.
Megan Schaltegger is a staff writer at Thrillist.