Coffee mate's New Creamer Will Make Your Coffee Taste Like Glazed Donuts
Two new plant-based creamers will hit retailers in January, too.
You're gonna need all the caffeine you can get to make it through this final push of 2020. We've still got Thanksgiving turkeys to fry, Christmas gifts to wrap, and politically-charged dinner table debates to be had, which means you'll need at least three cups a day to make it out alive and to the other side.
But why make the task a chore, when your morning coffee can taste like straight up dessert.Coffee mate just unveiled its latest flavors and they accomplish just that. The company is set to launch Oatmeal Crème Pie and Glazed Donut creamer bottles to retailers nationwide in early 2021.
The new releases, which will both run you around $2.69 a pop, come in 16-ounce bottles. The Oatmeal Crème Pie creamer features cinnamon, brown sugar, and oatmeal cookie flavors while the Glazed Donut tastes exactly how it sounds: like a glazed donut.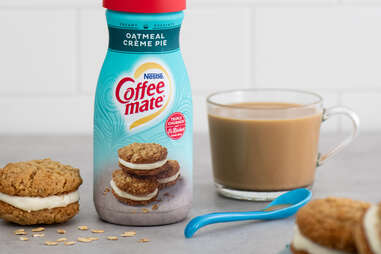 For our lactose-free friends out there, the brand is also adding two new plant-based flavors to its portfolio: Natural Bliss Brown Sugar Oat Milk and Natural Bliss Almond Sweet Crème.
"Natural bliss Brown Sugar Oat Milk is made with pure, simple ingredients to bring the taste of brown sugar oatmeal to your morning coffee cup," a rep for the company told Thrillist via email. "With notes of sweet brown sugar, natural oat and a hint of maple, this flavorful non-dairy option is sure to start your day off right."
Meanwhile, the Almond Sweet Crème boasts a "rich, smooth taste" with flavor notes set to compliment its almond undertones. The dairy-free offerings, as well as Coffee mate's new Oatmeal Crème Pie and Glazed Donut flavors, will hit stores in January.
Sign up here for our daily Thrillist email and subscribe here for our YouTube channel to get your fix of the best in food/drink/fun.
Megan Schaltegger is a staff writer at Thrillist.