Cold Stone Creamery Is Bringing Back This Fan-Favorite Valentine's Day Flavor
The ice cream flavor, Creation, and cake are available now through February 21, 2023.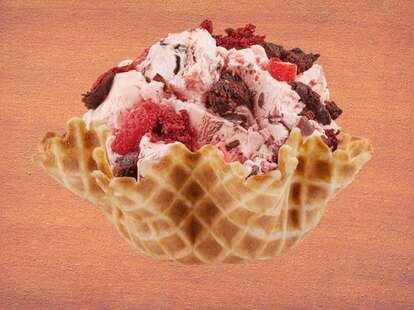 Edited - Courtesy of Cold Stone Creamery
Despite what rom-coms want us to believe, you won't look sexy eating a chocolate-covered strawberry unless you're an A-list actress with perfect lighting and professional makeup. It's the cold hard truth. So if you're looking for a romantic Valentine's Day indulgence, opt for Chocolate-Dipped Strawberry Ice Cream instead.
Cold Stone Creamery is bringing back its beloved ice cream flavor just in time for the holiday. The luscious combo features fresh Strawberry Ice Cream with ribbons of Fudge Ganache. And here's the real kicker: you can also try it in a Creation or cake form.
"Chocolate-dipped strawberries are a ubiquitous part of almost any Valentine's Day menu, so we decided to reimagine this luxurious treat into one of our super-premium ice cream flavors," Vice President of Marketing Sara Schmillen said in a press release. "Valentine's Day doesn't come around until mid-February, but guests won't have to wait that long to try our dreamy new desserts. No matter what type of love you're celebrating, we know you'll fall head over heels for this flavor."
The You Had Me at Chocolate-Dipped Strawberries Creation features the signature flavor with strawberries, brownie, and red velvet cake mixed in, while the All's Fair in Love & Cake includes layers of moist Red Velvet Cake with the Chocolate-Dipped Strawberry Ice Cream. It's also smothered in strawberry frosting with a fudge ganache.
You can get the Chocolate-Dipped Strawberry Ice Cream, Creation, and cake now through February 21, 2023.