Peeps Flavored Beer Is Here to Help You Troll This Year's Easter Celebrations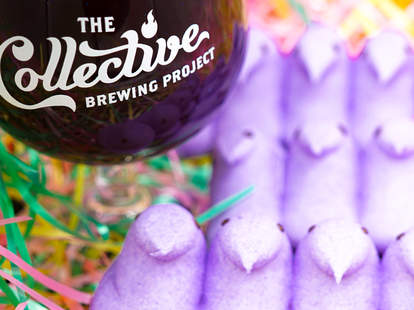 Dave Riddile/The Collective Brewing Project
Peeps, the delightful marshmallow birds that have become synonymous with the resurrection of Christ, are coming to a pint glass near you. Collective Brewing Project, a Fort Worth-based brewery that understands the limitless versatility of Peeps, is releasing a Peeps-flavored beer for Easter. 
Peep This Beer is a collaboration between Collective Brewing, Lone Star Taps and Caps bar, all of which are institutions of Texas suds. Much as you'd expect, the beer is full of mashed Peeps, which promise to give it a twinkly sheen. The beer, a sour ale brewed with vanilla and butterfly pea flower, is flush with actual glitter, which was added to the brew after the fermentation process. Imbibing the beverage is basically like gulping down a glittering pixie ale, though Peep This isn't likely to make your poops twinkle, as prior Peeps have proven possible. 
Here's what it looks like when Peeps are thrown into what looks like a frothing beer cauldron: 
 
Dave Riddile/The Collective Brewing Project
Collective Brewing's head brewer and co-founder, Ryan Deyo, told the Dallas Morning News that throwing Peeps into a beer should provide some much needed levity in an increasingly serious beer climate. 
"Several of us were just sitting around the brewery talking about how beer has become this super serious thing. I've been on a kick to assert beer should be a fun thing," he said.
It might seem like a zany way to troll an Easter church group, but Peeps beer is just another brew that's part of a growing trend of brewers pairing unlikely ingredients. Collective Brewing released a Ramen-infused beer last year, while Colorado's Vail Brewing Co. unveiled a fried chicken beer last July. 
If you're not in Texas, getting your hands on Peep This will be hard, as the official release party is Friday, March 30, at Collective Brewing Project's taproom in Fort Worth. The beer will then be available throughout the greater Dallas area in the following days. If you're not in Texas, consider eating regular Peeps, perhaps on a pizza, as a consolation prize. 
Sign up here for our daily Thrillist email and subscribe here for our YouTube channel to get your fix of the best in food/drink/fun.
 
Sam Blum is a News Staff Writer for Thrillist. He's also a martial arts and music nerd who appreciates a fine sandwich and cute dogs. Find his clips in The Guardian, Rolling Stone, The A.V. Club and Esquire. He's on Twitter @Blumnessmonster.