These Are the Worst Majors for Landing a Job After College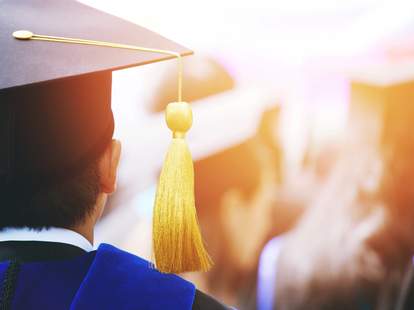 You've graduated. You have learned everything college has to teach you. You can clean your pants using nothing but dish soap and a public restroom. You can cut your friend's hair in the middle of the night. You can make a hot lunch using nothing but peanut butter, a tortilla, and a quesadilla maker. There's nothing you can't accomplish when you put your mind to it.
At least, until you're applying for a job, which seems like an impossible task where no one cares about all of your excellent new skills. The folks at 24/7 Wall Street have dug through data from the US Census Bureau to identify the college majors with the highest unemployment rates in the nation. That's useful if you're hoping to pay off the crippling debt you might incur by going to college. (You can also check out the majors with the lowest unemployment rate in the nation.)
Though, the site notes that the majority of majors on this list still have a lower unemployment rate than the national labor force taken as a whole. Additionally, the site reports Labor Department data shows more than 90% of new jobs are being filled by job seekers with at least a four-year degree.
It's not just art majors on here like your parents probably told you before you went to college. Though, the arts are certainly represented. The variety of majors on the top 10 could be taken as evidence that you should follow your interests. (Unless you ask your parents, then it's probably evidence you should have listened to them in the first place.)
Here's what 24/7 Wall Street found.
10. Computer administration management and security
Unemployment: 5.1%
Average salary: $63,989
9. Communication technologies
Unemployment: 5.1%
Average salary: $46,868
8. Drama and theater arts
Unemployment: 5.3%
Average salary: $45,469
7. Multi/interdisciplinary studies
Unemployment: 5.6%
Average salary: $44,376
6. Film video and photographic arts
Unemployment: 6%
Average salary: $48,999
5. Mining and mineral engineering
Unemployment: 6.2%
Average salary: 482,897
4. Educational psychology
Unemployment: 6.5%
Average salary: $37,766
3. Linguistics and comparative language and literature
Unemployment: 6.7%
Average salary: $41,777
2. Petroleum engineering
Unemployment: 7.9%
Average salary: $118,721
1. Military technologies
Unemployment: 8.9%
Average salary: $59,954
See the full top 25 here.

Sign up here for our daily Thrillist email and subscribe here for our YouTube channel to get your fix of the best in food/drink/fun.

Dustin Nelson is a News Writer with Thrillist. He holds a Guinness World Record but has never met the fingernail lady. Follow him @dlukenelson.