These Are the Colleges With the Highest Earning Graduates in Every State
Brown University

| Shutterstock
Brown University

| Shutterstock
Step one: earn a college degree. Step two: get a job. Step three: make gobs of money.
That's more or less the trajectory many of us strive to achieve as we venture into adulthood. It's why people bust their asses in high school to make it into a prestigious college. But as you'll figure out if you haven't already, having an Ivy League degree definitely doesn't guarantee you're going to bank fatter paychecks than your peers. In fact, lots of lesser-known institutions turn out a surprising number of people who go on to make the big bucks, as proven by this brand new list of the colleges in each state with the highest earning graduates.
The latest bit of analysis comes from the data team at career search site Zippia, who analyzed scores of data to determine which school in each state graduates the highest earners, on average. Specifically, they looked at the most recent College Scorecard data on four-year institutions, zeroing in on the mean earnings of graduates a decade after they first started school.
Interestingly, only one Ivy League school made the top 10 list, with Brown University coming in number two, behind the school that churns out the highest-earning graduates, on average, in the country: the University of Maryland Baltimore. Here are the schools that took the crown in each state, along with the average earnings of their grads.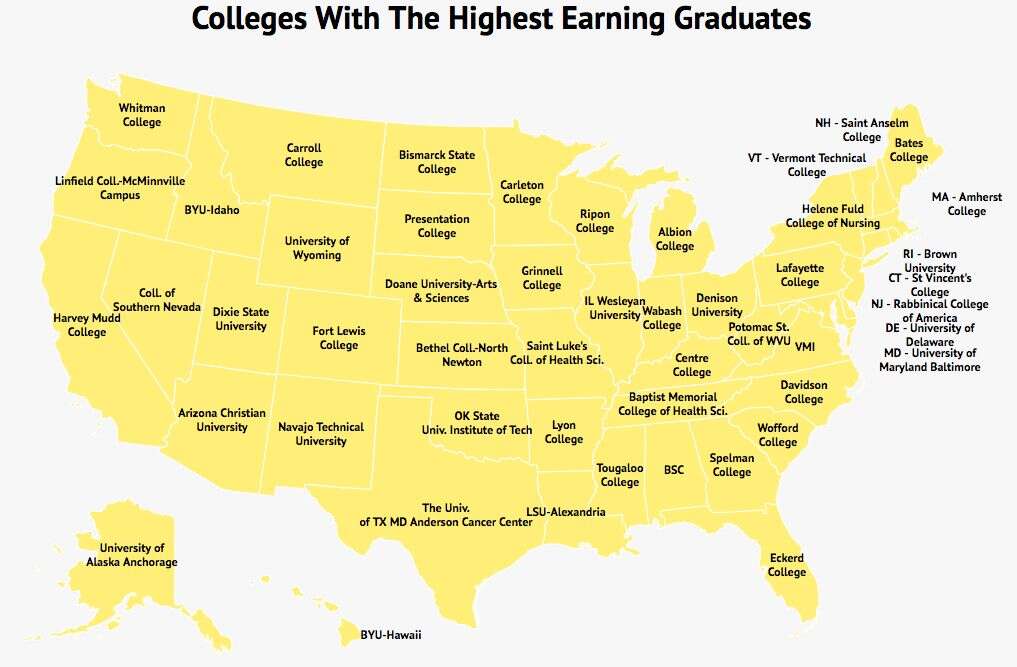 Alaska: University of Alaska Anchorage -- $48,900
Alabama: Birmingham Southern College -- $51,000
Arizona: Arizona Christian University -- $33,500
Arkansas: Lyon College -- $43,900
California: Harvey Mudd College -- $84,900
Colorado: Fort Lewis -- $39,000
Connecticut: Charter Oak State College -- $44,700
Delaware: University of Delaware -- $61,300
Florida: Eckerd College -- $48,400
Georgia: Spelman College -- $51,300
Hawaii: Brigham Young University-Hawaii -- $48,300
Idaho: Brigham Young University-Idaho -- $46,700
Illinois: Illinois Wesleyan University -- $60,500
Indiana: Wabash College -- $62,800
Iowa: Grinnell College -- $59,500
Kansas: Bethel College-North Newton -- $44,100
Kentucky: Centre College -- $52,500
Louisiana: Louisiana State University-Alexandria -- $35,700
Maine: Bates College -- $75.700
Maryland: University of Maryland Baltimore -- $102,900
Massachusetts: Amherst College -- $82,000
Michigan: Albion College -- $55,600
Minnesota: Carleton College -- $65,600
Mississippi: Tougaloo College -- $29,600
Missouri: Saint Luke's College of Health Sciences -- $64,700
Montana: Carroll College -- $47,500
Nebraska: Doane University-Arts & Sciences -- $47,700
Nevada: College of Southern Nevada -- $36,000
New Hampshire: Saint Anselm College -- $60,100
New Jersey: Rabbinical College of America -- $44,200
New Mexico: Navajo Technical University -- $20,000
New York: Helene Fuld College of Nursing -- $79,300
North Carolina: Davidson College -- $63,500
North Dakota: Bismarck State College -- $49,200
Ohio: Denison University -- $56,100
Oklahoma: OK State University Institute of Tech -- $39,500
Oregon: Linfield College-McMinnville Campus -- $56,400
Pennsylvania: Lafayette College -- $81,000
Rhode Island: Brown University -- $87,600
South Carolina: Wofford College -- $58,100
South Dakota: Presentation College -- $36,400
Tennessee: Baptist Memorial College of Health Sciences -- $53,100
Texas: The U of TX MD Anderson Cancer Center -- $82,100
Utah: Dixie State University -- $39,600
Vermont: Vermont Technical College -- $44,800
Virginia: Virginia Military Institute -- $62,100
Washington: Whitman College -- $56,900
West Virginia: Potomac State College of WVU -- $50,600
Wisconsin: Ripon College -- $49,200
Wyoming: University of Wyoming -- $51,400
It's worth noting that the rankings did not factor in any community colleges, and that the College Scorecard's earnings data is somewhat limited. For example, it includes earnings data for students who ended up dropping out as well as graduates, and also only factors in data for students who received federal aid. It's also important to keep in mind that this ranking wasn't just a look at undergraduate programs and that many of the schools on this list have schools of medicine, law, and nursing, which could very well skew their earnings numbers upward.
And while raking in a big ol' paycheck is obviously a nice bonus, if you're simply looking to land a job as a post-grad, these are the schools in each state most likely to help you do just that.
Sign up here for our daily Thrillist email and subscribe here for our YouTube channel to get your fix of the best in food/drink/fun.