These 15 Companies Have the Best Work-Life Balance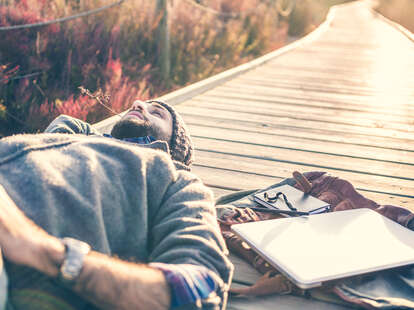 If you've ever received "urgent" Slack messages from your boss at 11am on a Sunday or stayed up all night to meet a deadline, then you know damn well that "work-life balance" doesn't seem to mean much at some companies. Thankfully, job listings site Indeed just made it a little easier to find a better work-life ratio in your life with a new analysis that reveals the companies with the best work-life balance, according to reviews by employees.
In a report published on Tuesday, Indeed identified 15 companies that stand out when it comes to offering a healthy balance between personal and professional for employees, based on data from more than 72 million employee ratings and reviews posted on the site. The new 2018 ranking, like last year's ranking, includes employers from multiple industries, including finance, tech, real estate, and more. This year's top spot goes to Keller Williams Realty, followed by fellow real estate giant Coldwell Banker, and networking/IT leader Cisco to round out the top three.
"As an individual contractor you determine your work day," a Keller Williams employee said, per the report. "Each day offers learning and continuing education about culture and opportunities."
Here's the full ranking:
15. Johnson & Johnson
14. Lockheed Martin
13. Dell
12. Fidelity Investments
11. American Express
10. Pfizer Inc.
9. Northrop Grumman
8. NIKE
7. Century 21
6. Capital One
5. Google
4. Kaiser Permanente
3. Cisco
2. Coldwell Banker
1. Keller Williams Realty

As Indeed points out in the report, three real estate firms -- Keller Williams, Coldwell Banker, and Century 21 -- made the ranking, which according to the site, illustrates that a strong work-life balance isn't a new concept exclusive to startups. In other words, it's good news for everyone who doesn't like to think about work after 6pm.

"The takeaway? Awareness of the importance of work-life balance isn't just restricted to a few hot companies in the tech industry, even if those are the firms which receive the most media coverage," Indeed said in a press release. "Organizations across the country are putting real effort into helping their employees successfully navigate work responsibilities, personal commitments and leisure time."

Of course, work-life balance is extremely important for most people -- millennials say it's among the most important factors when weighing job opportunities -- but don't forget to consider other factors such as salary and benefits.

Sign up here for our daily Thrillist email and subscribe here for our YouTube channel to get your fix of the best in food/drink/fun.


Tony Merevick is Senior News Editor at Thrillist and used to have a pretty terrible work-life balance. Send news tips to news@thrillist.com and follow him on Twitter @tonymerevick.