Coors Light Will Pay for You to Adopt a Dog Throughout February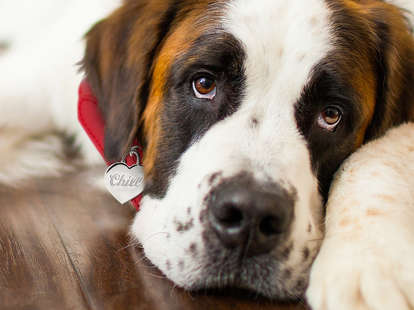 Edited - Courtesy of Coors Light
Ah, February -- the month of love. It's the time for evenings snuggled under blankets marathoning Netflix shows, candlelit dinners finished off with shared silky desserts, and endless affection. But what if you have no one to share this love-fueled month with? Coors Light has the answer for you: get a dog.
We agree -- there is no better cuddler than a dog. If you're of legal drinking age and adopt a pup between February 4 and February 21, Coors Light will cover up to $100 of the adoption fees for the first 1,000 eligible participants. All you have to do is text a picture of your adoption receipt and "COORS4k9" to 28130.
"Cuffing Season is a major cultural trend and poses tension for our younger drinkers, as they navigate the stress of finding someone to spend the cold months with," Chelsea Parker, marketing manager at Molson Coors, said in a statement. "With almost half of millennials planning to stay in on Valentine's Day, we wanted to help empower people to savor the day with Coors Light and a dog by their side."
Lust may be fleeting, but a dog's love lasts forever. Get a companion who will actually have your back through thick and thin, be down to snuggle whenever, and gives the best kisses. Only snacks and tummy rubs are asked in return.
Sign up here for our daily Thrillist email and subscribe here for our YouTube channel to get your fix of the best in food/drink/fun.
Kat Thompson is a staff writer at Thrillist. Follow her on Twitter @katthompsonn.