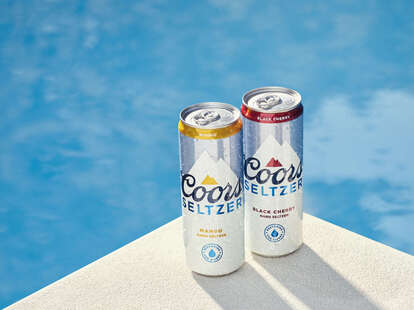 Courtesy of Coors
Courtesy of Coors
Doing your taxes practically requires an alcoholic beverage—whether that's before, during, or after is a you decision. Whatever you choose, Coors Seltzer will foot the bill. The booze maker is giving away free 12-packs to celebrate the last day to file.
From now through May 17, aka Tax Day, you can "write-off" your seltzer purchase and get tipsy on Coors. The brand will reimburse you for your purchase, so if you've procrastinated the task this long, it's time to crack a cold one and get to work. Here's how it works: Pick up a 12-pack from your local liquor store and upload the receipt online.
Coors unleashed its hard seltzer back in October 2020 and with an important mission in mind. For every 12-pack purchased, the company is giving back 500 gallons of water to US rivers via its partnership with Change the Course, a program with nonprofit Bonneville Environmental Foundation.
The flavor portfolio includes Black Cherry, Lemon Lime, Mango, and Grapefruit, with each only clocking 90 calories and 4.5% alcohol by volume.
"Americans are drinking an astounding amount of hard seltzer, but it's not doing much good," Molson Coors' senior director of above premium flavors Matt Escalante said at the time of its release. "With the launch of Coors Seltzer and its volunteer program, we're setting out to provide a seltzer that tastes good and also gives drinkers an opportunity to do good with each and every sip."
Now you can snag a pack for free and still help the planet. Win, win.
Megan Schaltegger is a staff writer at Thrillist.