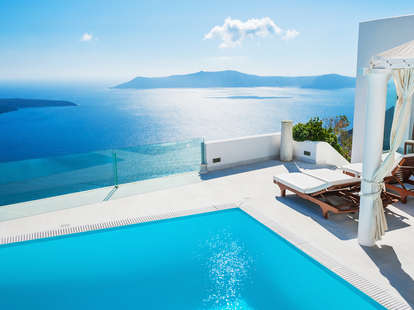 Thanks to Airbnb and last-minute hotel booking apps, it's easier than ever to score a nice place to crash for far less than you would have before. Though every once and a while it's still nice to let your "treat yo self" impulse shine through and splurge for some super luxurious digs. It turns out that doing just that may be less of a bruise to your wallet than you'd think in a lot of popular cities, according to this nifty new chart that ranks the average cost of five-star hotels in the top 100 destinations around the world.
This ranking of the average rate for a five-star hotel room around the world comes from the folks at travel site Asher & Lyric, who compiled it using data collected from TripAdvisor. Specifically, they found the average price for a room at the five best-rated five-star hotels in a specific area for a weeknight stay during each of the four seasons. As you'd expect, a night in a top-notch hotel in certain well-to-do cities where the rich go to play is astronomically expensive, but you may be surprised where they're actually relatively affordable.
For instance, the average cost for night at a five-star hotel in Dubai, which is famously packed with wildly lavish accommodations, is just $105. Similarly, you can live in the lap of luxury in Brussels for $166, and in Seoul for $212. And if you're looking for yet another good reason to visit Mexico City sometime soon, the best hotels there will set you back just $254 a night.
On the flip side, it would be remarkably easy to empty your bank account on a single overnight in select hotspots. In New York City, for example, you'll pay $857, while living it up in St. Barths would cost a cool $1,312. Feel like a five-star holiday in Maui? That'll set you back $912.
You can scope out the full infographic below, which reveals both the overall average price for a five-store hotel in each locale, and also what the rates typically are during the respective high season there.
Now go forth and live large when you can. You deserve it.
h/tReddit

Sign up here for our daily Thrillist email and subscribe here for our YouTube channel to get your fix of the best in food/drink/fun.