Beer distribution is a weird animal. Not only do the same beers cost different amounts in each state, there are tons of beers you'll have to cross state lines to dig up. Want something from 3 Floyds in New York? The closest you'll find it is in Ohio. Want New Glarus basically anywhere? You have to go to Wisconsin. 
New Glarus isn't sending Spotted Cow to Illinois anytime soon, but residents of Illinois can lord their lower beer prices over Wisconsinites.  As it did back in 2017, Simple Thrifty Living compiled data about beer prices across the country to create the map below revealing the difference in the price of beer in every state. 
To create the map, the site dug up prices from national and regional retailers in up to 10 zip codes in every state. Because the available beers change from state to state, it used two brands you know you can find everywhere: a 24-pack of Bud Light and Miller Lite.
Within each state, it was sure to pick a mix of rural and urban zip codes to represent a variety of areas in each state. According to the study, "numbers reflect prices only, taken from the retailers, and do not reflect any additional taxes or fees, such as recycling fees." The final number was found by averaging the prices of the two beers and rounding to the nearest penny.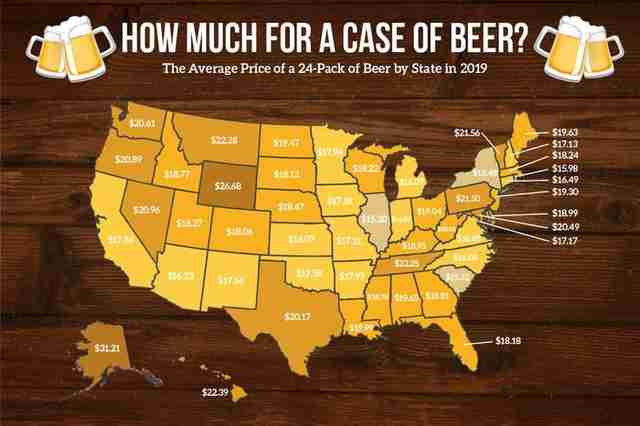 The state where your wallet will be most pleased is Illinois. A case averages $15.20. The Land of Lincoln is followed by South Carolina, New York, Rhode Island, and a tie between Kansas and Michigan. 
You're suffering a little more if you're buying beer in Alaska where it averages $31.21. At the bottom of the list, Alaska is keeping company with Wyoming ($26.68), Hawaii ($22.39), Montana ($22.28), and Tennessee ($22.25). Take a look at the full list of prices below. 

Sign up here for our daily Thrillist email and subscribe here for our YouTube channel to get your fix of the best in food/drink/fun.