Costco Is Banning Non-Members From its Food Court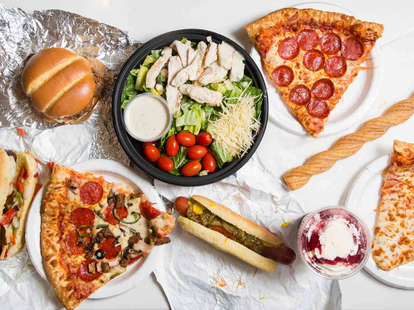 The only thing better than Costco's free samples and monstrous bottles of its Kirkland brand tequila is the food court, known to some (read: me) as the promised land. But whether you're carbing up for the arduous grocery shop ahead or caught a craving for churros, it's a destination for super affordable eats.
But getting your chicken bake fix might not be possible anymore. The wholesale superstore has gone and done the unthinkable by banning non-members from enjoying the simple pleasure a Costco pizza slice brings. According to a report bu CNN, the company says eating at the food court "always required" a membership, but now, it's actually enforcing the rule. Rude.
A spokesperson for Costco told the outlet that beginning in March you must have an active membership to indulge. Translation: Cough up 60 bucks for the annual fee or bid goodbye to your $1.50 hotdog habit.
Sign up here for our daily Thrillist email and subscribe here for our YouTube channel to get your fix of the best in food/drink/fun.
Megan Schaltegger is a staff writer at Thrillist. Follow her @MegSchaltegger.