Study: Couples Who Use Contraceptives Bang More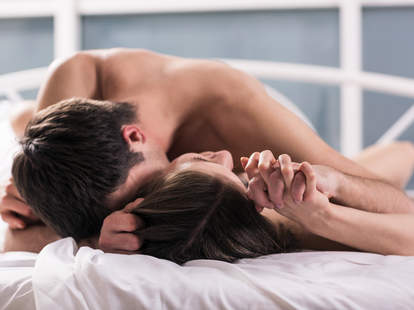 Contraceptives might just beat out Lionel Richie as the hottest aphrodisiac. Keyword: might. The effects of Lionel Richie on lovemaking are yet to be completely quantified.
But according to a recent study by John Hopkins Bloomberg School of Public Health, couples who use contraceptives have sex more often. To draw this conclusion, researchers examined the answers of "210,000 sexually active women of childbearing age in 47 countries," in Demographic and Health Survey questionnaires completed since 2005. All these women were either married or living with someone.
The survey results showed 90% of women who use contraception admitted to having sex within the last four weeks. However, of those who don't use contraception, only 72% reported having sex (sad trombone sound effect) within the last four weeks.
Although there definitely seems to be a connection between contraceptives and sex, the leader of the study Suzanne Bell did warn against jumping to conclusions. For instance, she noted that this doesn't mean that increasing women's access to contraceptives will absolutely encourage women to have sex more freely, being that some women won't use contraceptives, due to health concerns and religious considerations.
Still, it's a study that would make your sex ed/gym teacher proud. And you don't even have to climb a rope!

Sign up here for our daily Thrillist email, and get your fix of the best in food/drink/fun.
Kara King is a News Writer at Thrillist and fruit played a large role in her sexual education. Send news tips to news@thrillist.com and follow her at @karatillie.