Anheuser-Busch Is Buying Even More Craft Breweries, Including Kona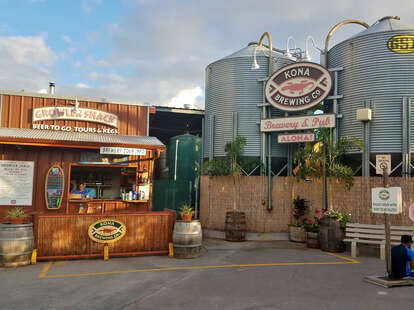 Anheuser-Busch InBev has been busy in the last half of 2019. It acquired the Ohio-based craft brewery Platform Beer Co. in August. On November 11, the Belgium-based company announced it will acquire the remaining 68.8% of Portland's Craft Brew Alliance (CBA) that it didn't already own.
That brings breweries like Kona, Widmer Brothers, Redhook, and Omission under the big beer brand's umbrella. The deal is expected to close in 2020 following regulatory approval and approval from shareholders. Beer Insights estimates that the acquisition will give A-B InBev the number one "craft portfolio in [the] US by volume," per a tweet from the Chicago Tribune's Josh Noel.
"Our partnership with CBA goes back many years, and we look forward to supporting CBA as they continue to bring great products to beer drinkers across the US," Anheuser-Busch InBev CEO Michel Doukeris said in a press release shared by Brewbound.
Just five years ago, A-B owned only two "craft" brands. (By the Brewers Association definition, those breweries are no longer craft breweries once they've been purchased by AB.) That expanded rapidly, even if no acquisitions were made from May 2017 (Wicked Weed) through August's deal with Platform. These CBA brands will soon join A-B's The Brewers Collective, which already includes familiar breweries like Goose Island, Elysian, 10 Barrel, Breckenridge, Blue Point, and Golden Road. In addition to those listed above, the Brewers Collective will add Square Mile Cider, Wynwood Brewing, Cisco Brewers, Appalachian Mountain Brewery, and the pH Experiment.
"By combining our resources, our talented teammates and dynamic brands, we will look to nurture the growth of CBA's existing portfolio as we continue investing in innovation to meet the changing needs of today's beverage consumers, all while delivering certainty of value to our shareholders," said Andy Thomas, CEO of CBA, in a statement.
Thomas later added that he does not believe the sale will result in "widespread [job] losses anywhere."
Once the deal is finalized, Kona would become one of A-B's biggest brands under the Brewers Collective moniker. It produced 456,300 barrels of beer in 2018, rivaling the 550,000 produced by Goose Island and the 430,000 produced by Shock Top, which saw a 23% decrease from 2017, according to Brewbound.
The behemoth beer company has seen sales slip in the US over recent years, and it's making a push deeper into craft beer, as well as other alcoholic drinks like hard seltzers. It recently announced that Bud Light Seltzer is a thing that will exist in 2020. With a lot of big moves in the industry through this year -- Dogfish Head joining Boston Beer, for instance -- it's getting increasingly complicated to know who is behind the label you're picking up at the liquor store.
Sign up here for our daily Thrillist email and subscribe here for our YouTube channel to get your fix of the best in food/drink/fun.