Let the Craigslist Blizzard Hookup Blitz Begin
It's the countdown for #Blizzard2016, a.k.a Winter Storm Jonas, a.k.a Snowrgasm. OK, no one is calling it Snowrgasm, except for one guy searching for someone to plough through the snow with on Craigslist. If you fall for that one, that on you. 
But while the northeast and Mid-Atlantic are getting "walloped," and as much as 3ft of snow falls in some places, many have realized they need to shack up with a special snow bunny. That's a euphemism for someone to have sex with.
Well, look no further than these Craigslist personals. There's a guy wearing a cape, an old man desperately trying to take a mirror selfie, and a "Hung Hip Hippie," as well as other potential inmates mates waiting to keep you warm, and maybe do some other stuff too. 
WARNING: some listings are extremely NSFW.
Screenshot via Craigslist
Although this superhero may seem like he's not in possession of much else but a pair of briefs and a bed sheet, he promises he's got that essential hookup device -- the Netflix account. Cupid's obviously struck him and he's "ready to chill."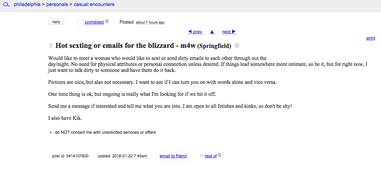 Screenshot Via Craigslist
The next Pablo Neruda isn't asking for much. He just wants to "turn you on with words alone." If you're looking to cuddle up with some tea, a book, oh and any mobile device that allows you to "sext," this is your guy. "Pictures are nice, but also not necessary."
But a picture can tell a thousand words!

Screenshot Via Craigslist
This dude's obviously a planner. He's just trying to get "pounded" before other things get "pounded." Very clever. Two different uses of "pounded." OK, that's enough with the pounding.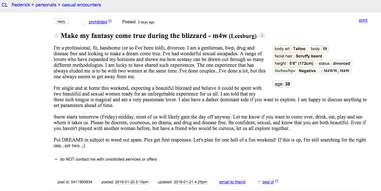 Screenshot via Craigslist
Instead of donating your spare sweaters, you could also do some charity work by making this guy's dreams come true during the storm. He's searching for that "one experience that has always eluded him," namely, two hot girls at one time. Unlike other more dick-centered lovers, he notes that he has a "three inch tongue" and encourages his potential playmates with the words, "Be confident, sexual, and know that you are both beautiful." Well that's... almost sweet? 
Screenshot Via Craigslist
This guy's got clean sheets and is "not pushy." Isn't that every girl's dream? Plus he looks just like your grandpa trying to work his phone, if you're into that sort of thing. He promises he's "stocked up," and that actually may not be a euphemism.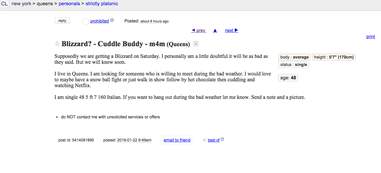 Sceenshot via Craigslist
This man's realistic about things. That's a good sign. He's "personally a little doubtful that the blizzard will be as bad as they said," but he's making cuddle preparations anyway. Better safe than spoonless. Also, his plan sounds like something out of Elf. Hot chocolate and a snow ball fight?! SANTA! IT'S SANTA!
Screenshot via Craigslist
Oh, he's off for the rest of the week. That means he's flexible with scheduling, and that's basically the first rule of blizzard hookup buddy. Although this totally not jobless guy is looking for adult fun, he also has "all the trappings" for the blizzard. "All the trappings" apparently means an XBox, Amazon video, and Netflix. Let's hope that's the only thing he's trapping.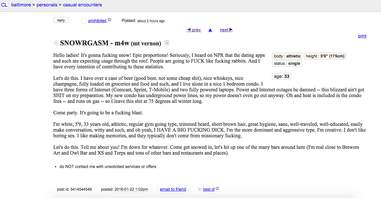 Screenshot via Craigslist
SNOWRGASM. Everyone knows that an all caps subject line gets the job done. Just ask anyone who's worked in an office. This enthusiastic man clearly knows what he's doing, since he's got "three forms of Internet" (Comcast, Sprint, T-Mobile). Also, he promises "this blizzard ain't got SHIT on his preparation"
He also has a large penis.
Screenshot Via Craigslist
This king of alliteration has "salt-and-pepper hair, blue eyes and a goatee." He's looking for a "sapiosexual" and a little bedroom fun. If you're not up with this hip dude's lingo,"sapiosexual" is "one who finds intelligence the most sexually attractive feature," according to Urban Dictionary. But if you don't know what it is, then you're obviously not on the level of Mr. Goatee. And that's probably alright.
Screenshot cia Craigslist
This woman needs at least 8 inches. Thankfully, the National Weather Service is predicting 10 to 18!
Oh. She's not talking about snow. Her blizzard buddy is required to bring 420 and snacks. But that's a small price to pay for those fuchsia lips. And fuchsia hair.

Grab one of these charmers and don't get left out in the cold... unless you're under 8 inches. 
Sign up here for our daily Thrillist email, and get your fix of the best in food/drink/fun.
Kara King is a News Writer at Thrillist and needs to get to Costco stat. Send news tips to news@thrillist.com and follow her at @karatillie.