You Won't Need to Sign Your Receipt at The End of Dinner Anymore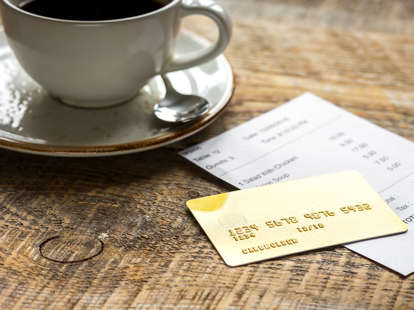 Good news for people with lousy signatures: Four major credit card companies are officially dropping the requirement to sign credit card receipts on Sunday.
While dining at some restaurants, customers carrying Mastercard, Visa, Discover and American Express are effectively off the hook when it comes to signing receipts after a meal, Restaurant Business reports. The collective move away from the industry-norm comes as EMV chip-embedded cards become a global standard. EMV chips have helped decrease instances of fraud, the major credit card companies argue, and pose less susceptibility to identity theft than magnetic strip-enabled cards, which can easily have data purloined in a credit card skimmer.
The switch has been coming since late last year, when Mastercard announced in October that modern technology has made signing a scrap of paper virtually obsolete. Similarly, last December, Discover's Vice President of Global Products Innovation Jasma Ghai said that the ubiquity of "new payment security capabilities, like chip technology and tokenization," meant that phasing out signatures was basically inevitable.
For generations, jotting down some illegible scribble on a receipt was a safeguard against fraud. As Eater points out, declining to sign a receipt meant a customer could theoretically deny and fight the charge, which ostensibly served as a form of consumer protection.
There's conflicting evidence out there regarding EMV cards' effectiveness in fighting fraud. While credit card companies claim EMV technology has helped clamped down on the issue -- Visa said that fraud decreased by 66% after the introduction of EMV cards in 2015 -- a study from Javelin Strategy & Research found that identity fraud surged 16% in 2016. This occurred despite EMV becoming more commonplace, costing consumers an all time high of $16 billion in losses that year.
Sign up here for our daily Thrillist email and subscribe here for our YouTube channel to get your fix of the best in food/drink/fun.
 
Sam Blum is a News Staff Writer for Thrillist. He's also a martial arts and music nerd who appreciates a fine sandwich and cute dogs. Find his clips in The Guardian, Rolling Stone, The A.V. Club and Esquire. He's on Twitter @Blumnessmonster.