Clown Porn Searches Have Skyrocketed Thanks to the Creepy Clown Epidemic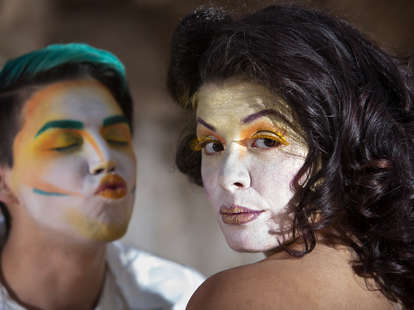 The recent rash of scary clown sightings all across America has been troubling for both law enforcement officials and, believe it or not, the professional clown industry. But it turns out the creepy clown epidemic could prove to be a bit of a boon for the internet porn business, with "clown porn" searches skyrocketing in recent weeks, according to a new study from Pornhub. Seriously.
As explained in a SFW Pornhub blog post, clown-related porn searches on the popular porn site have surged by a whopping 213% since mid-September and there have been at least 100,000 clown porn searches in the last 30 days alone. With numbers like that, "clowning around" isn't even close to an appropriate euphemism for all the bozos beating their boners out there. Here's Pornhub's chart showing the monstrous growth: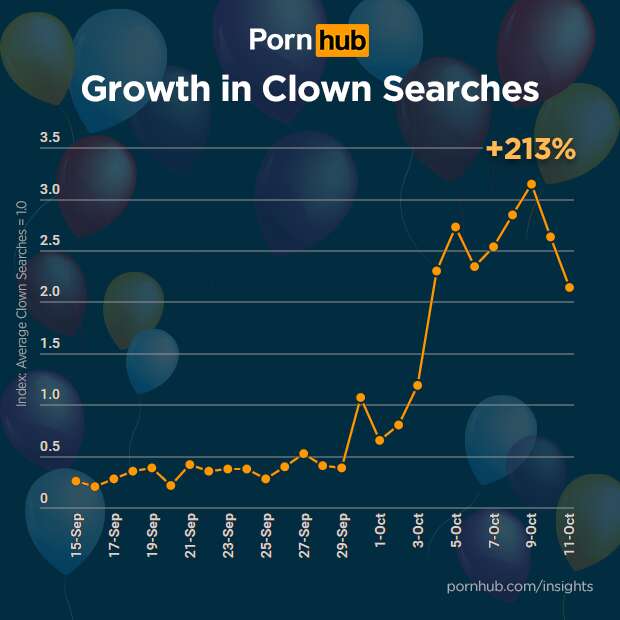 As you may have guessed, the specific search terms people are using to find clown porn do not disappoint. After "clown porn," the most popular search terms include "clown girl" and "clown gangbang," which leads us to believe there's a crowded clown car sex joke out there somewhere. Perhaps most interesting, though, is how searches like "killer clown," "scary clown," and "crazy clown" have surpassed the site's longterm clown fetish searches like "birthday clown" and "clown fart," according to Pornhub's research. Oh, and women are 33% more likely to search for clown porn than men, in case you were wondering.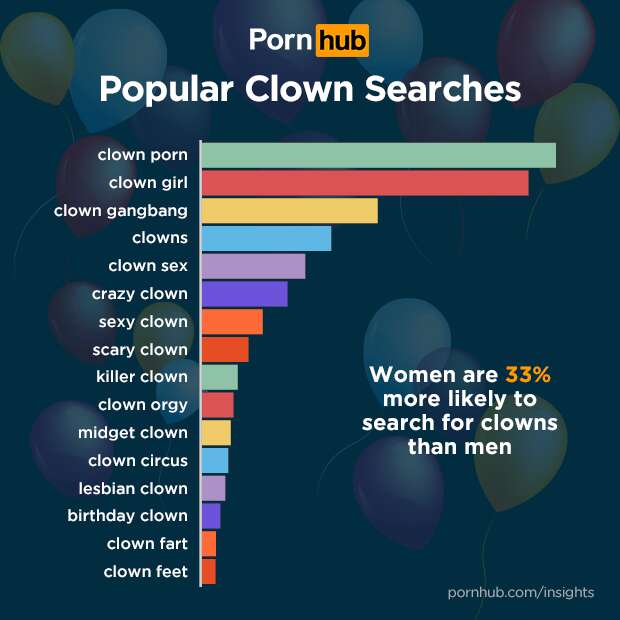 Aside from the outbreak of terrifying clown sightings menacing small towns across America, previous Pornhub research suggests that people love to check out creepy, Halloween-related porn this time of year. Have fun out there -- and, uh, look out for scary clowns.
Sign up here for our daily Thrillist email, and get your fix of the best in food/drink/fun.
Tony Merevick is Cities News Editor at Thrillist and has personally never watched clown porn. Yet. Send news tips to news@thrillist.com and follow him on Twitter @tonymerevick.