These Ready-to-Drink Bloody Marys Are the Ultimate At-Home Brunch Beverage
Pick your poison: boxed or canned?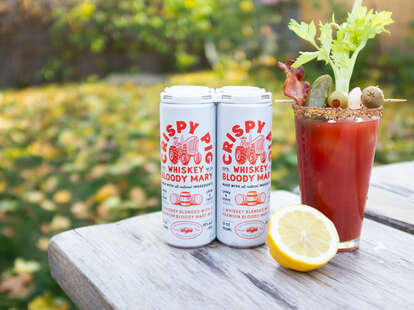 Courtesy of Crispy Pig
Courtesy of Crispy Pig
Temperatures are officially on the decline, which means we've got two options: to dress appropriately for the weather (hats, scarves, the whole nine years) or outfit ourselves in something a better—like a booze blanket. You know, the simple tactic of drinking one too many Bloody Marys to keep toasty. It's a tradition as old as time.
And now, you don't even need to stock up on supplies to do so. Crispy Pig has created a ready-to-drink Bloody Mary that not only comes in cans, but a 3.5-liter box, too. Trust me, it tastes better when you don't have to play bartender yourself. Leave it up to the professionals, my friends.
The blend is a little different than your typical Bloody Mary. Instead of a vodka, Crispy Pig's version features whiskey and a 10% ABV and 144 calories in those 12-ounce cans. You can score 4-packs for $12.99 or go the more cost-effective route with the 3.5L box at $29.99. California and Nevada residents can score the product at retail stores, but for the rest of us, the Crispy Pig is available for shipping nationwide beginning Sunday, November 1.
"An all-natural blend of premium Bloody Mary mix and whiskey, Crispy Pig is gluten-free, vegan-friendly, goes down smooth with delightful smokey notes, and is guaranteed to be the king of your next backyard BBQ, home tailgate, or brunch," a rep for the company told Thrillist via email.
Of course, the drink toppings are all on you. Toss in a pickle, celery, some cheese cubes, maybe even an entire burger if you're feeling wild. The options are endless.
Sign up here for our daily Thrillist email and subscribe here for our YouTube channel to get your fix of the best in food/drink/fun.
Megan Schaltegger is a staff writer at Thrillist.