Crystal Pepsi Returns to Store Shelves Today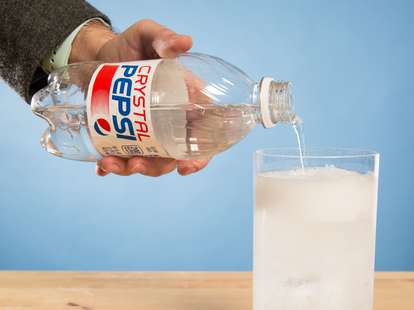 Lili Sams/Thrillist
Lili Sams/Thrillist
Despite being more than two decades apart, 2016 and 1992 are bizarrely similar in the sense that there's a Clinton running president, people are drinking Hi-C Ecto Coolers because of Ghostbusters, and a new soda called Crystal Pepsi is landing on store shelves. That's right, folks: Crystal Pepsi, the long-lost clear cola, is officially back... because even soda history repeats itself.
Here's the scoop: You'll be able to grab 20oz bottles of the sweet nostalgia when they start rolling out to store shelves nationwide on Monday, August 8th. Canadian retailers, however, started selling Crystal Pepsi a month earlier on July 11th for some reason. But just like '90s technology, the new batch of Crystal Pepsi won't be around for long -- an eight-week run, to be exact.
Pepsi said "overwhelming fan demand" and the huge response to a Crystal Pepsi sweepstakes last year inspired the company to finally resurrect the cola. As we noted in our taste-test of the new Crystal Pepsi last December (yes, we got our hands on some), it's slightly different compared to the Crystal Pepsi sold two decades ago, especially seeing as it now contains caffeine. One thing, though, hasn't changed: it still doesn't taste exactly like Pepsi. But it's pretty damn close.
To help celebrate the carbonated comeback, Pepsi also created a Crystal Pepsi-themed take on "The Oregon Trail" computer game, "The Crystal Pepsi Trail," which challenges players to reach the majestic Crystal Pepsi Fountain in none other than a wooden station wagon. The game will be available to play at the perfectly '90s-style crystalpepsi.net on July 7th. (We previewed the game and got a high score of 7785, so try to beat that, dudes.)
Anyway, there's a good chance you'll be partying like it's 1992 again in no time, although we strongly recommend keeping your '90s hairstyles and clothing wherever the hell you left them.
Sign up here for our daily Thrillist email, and get your fix of the best in food/drink/fun.
Tony Merevick is Cities News Editor at Thrillist and rarely drinks soda, but totally made an exception for this stuff. Send news tips to news@thrillist.com and follow him on Twitter @tonymerevick.