It Just Got Easier to Travel to Cuba. Here's What You Need to Know.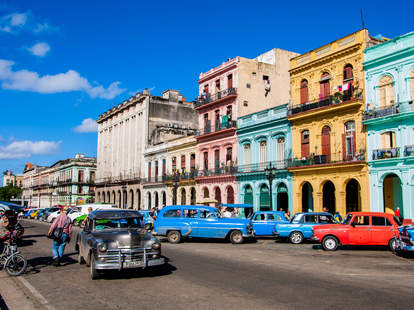 <a href="http://www.shutterstock.com/gallery-1520069p1.html?cr=00&amp;pl=edit-00">Hang Dinh</a> / <a href="http://www.shutterstock.com/editorial?cr=00&amp;pl=edit-00">Shutterstock.com</a>
While previous changes to travel regulations made visiting Cuba slightly easier for Americans, the process has largely remained a major pain in the ass. But now, the Obama Administration has again loosened travel restrictions under the longstanding embargo, making it even easier for you to visit the small Caribbean nation and experience its terrible lack of Internet.
With only a handful of days before President Obama's historic trip to Cuba, his administration announced Tuesday it has further eased restrictions by broadening what it considers "people to people" educational trips to include individual Americans, and not just expensive tour groups, according to a report by the Associated Press. In other words, you -- or any American -- can now travel to Cuba on your own if you complete a form explaining your trip is for educational purposes and not just to lay on a beach and smoke Cohibas.
Yes, that's right: traveling to Cuba for tourist activities is still prohibited under the updated rules. However, the regulations continue to allow for travel to Cuba for some specific reasons like religious celebrations, public performances, professional research, family visits, journalistic endeavors, and government business. Ultimately, the administration's latest easing of the travel restrictions as well as other new changes involving economic sanctions add further blows to the embargo imposed against Cuba, although only Congress has the power to end it, per the report.
The bottom line is that you still can't hop on a plane and vacation in Cuba, no matter how boozy and charming Anthony Bourdain makes the place look. But going there now will at least be less of a pain in the ass.
Sign up here for our daily Thrillist email, and get your fix of the best in food/drink/fun.
Tony Merevick is Cities News Editor at Thrillist and one of his goals is to travel more this year. Send news tips to news@thrillist.com and follow him on Twitter @tonymerevick.