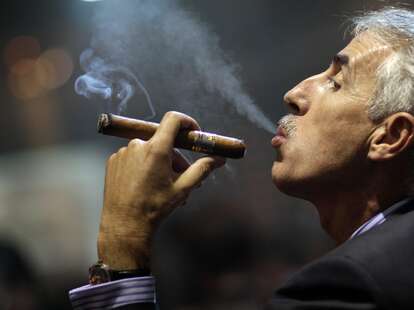 Getty Images
Getty Images
Most Americans have the same cultural references when somebody says, "Cuba" -- yank tanks, Fidel Castro, and of course, Cuban cigars. But the island nation just 90 miles away from Miami has been verboten -- including its wonderful booze and cigars -- since the US instituted an embargo ages ago. Until now, that is.

As part of the recent easing of travel restrictions, the US Government finally made it legal for Americans to buy and consume Cuban cigars and alcohol while abroad in a third-party country. A statement from the Office of Public Affairs puts it this way: "This authorization will allow, for example, Americans traveling in Europe to purchase and consume Cuban-origin alcohol and tobacco products while abroad similar to the travel exemptions in other sanctions programs."
Though the change doesn't mean you can just pick up a box of Cubans at your local tobacco store, it does mean that specialty Cuban products will now be way more accessible to Americans. The laws never really stopped people who wanted these things before, but now, anyway, Americans will be more broadly able to enjoy Cuba's finest exports -- and not just Andy Garcia or José Canseco.
Sign up here for our daily Thrillist email, and get your fix of the best in food/drink/fun.
Kara King is a News Writer at Thrillist and has never enjoyed a Cuban cigar. Send news tips to news@thrillist.com and follow her at @karatillie.