Baseball Player Destroys Fan's Nachos, but Makes Up for It in the Best Way Possible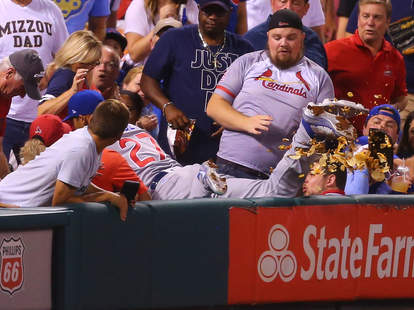 Getty Images/Getty Images Sport/Dilip Vishwanat/Stringer
In the world of contact sports, nachos are often among the first casualties when things go awry, and this unfortunate truth was on display Monday night when the Chicago Cubs played the St. Louis Cardinals. Spoiler alert: perfectly good nachos were destroyed in the name of sports.
The cheesy tragedy occurred when Cubs shortstop Addison Russell defied the usual scope of his job by chasing a foul ball directly into the stands, crushing a man's nachos -- and perhaps his dreams -- in one fell swoop. The turbulent episode played out in front of a full televised broadcast, with the game's commentators narrating it step-by-step:
Andrew Gudermuth, the St. Louis man who lost his tray of nachos in the incident, was understandably sullen after the collision. A reporter from Fox Sports was there to capture his anguish as he told the tale of losing his Busch Stadium nachos.
The episode wasn't all for nought, though. Because Russell is a standup guy whose team was winning 8-1, he brought Gudermuth a fresh batch of nachos, served with a side of remorse.
But as this was a sporting event between two divisional rivals who take nachos seriously, Gudermuth threw a subtle jab in the Cubs' direction on Twitter. Apparently, Russell only gave him plain nachos, while the nachos he picked up earlier were "loaded" with multiple fixings -- a discrepancy that Gudermuth took issue with. Still he called the whole thing "unforgettable" and apparently dubbed himself "Nacho Man" in the process.
Wether Gudermuth is awarded a lifetime supply of nachos at his local ballpark or becomes a semi-official mascot for Velveeta, remains to be seen.
Sign up here for our daily Thrillist email and subscribe here for our YouTube channel to get your fix of the best in food/drink/fun.
 
Sam Blum is a News Staff Writer for Thrillist. He's also a martial arts and music nerd who appreciates a fine sandwich and cute dogs. Find his clips in The Guardian, Rolling Stone, The A.V. Club and Esquire. He's on Twitter @Blumnessmonster.