Culver's Cheese Curd Burger Was an April Fool's Joke & Now It's Real
The chain combined two of its best menu items on April Fool's Day, and now, it's becoming a reality.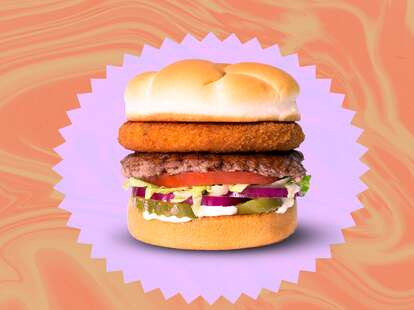 Photo courtesy of Culver's/Design by Maitane Romagosa for Thrillist
Photo courtesy of Culver's/Design by Maitane Romagosa for Thrillist
In general, there are few things as annoying as the ill-conceived corporate April Fool's Day joke. At best, they're dull marketing tactics. At worst, they're kind of malicious pranks designed to trick you. There may be, however, a third category of April Fool's jokes that aren't great jokes but are joke products you genuinely wish existed. Like Hendrick's Gin's joke about gin-inspired pickles that are now a reality.
Culver's is following Hendrick's and actually releasing the product that was once an April Fool's joke. The CurderBurger was a goofy combo of two of the Midwest-based chain's best items, the Deluxe ButterBurger and Cheese Curds. In the joke, it was just a giant cheese curd on a bun. In reality, those two items will meet up for a cheesy, deep-fried burger topper.
The CurderBurger will be released for one day only, National Cheese Curd Day on October 15. Locations nationwide will have "a limited supply" of the burgers, according to the custard-slinging restaurant's announcement.
Culver's is describing the concoction as a ButterBurger "topped with a crown of golden fried cheese." Often, "crown" in culinary speak means a little on the top. Here, heavy is the head that wears the crown. That's no small amount of cheese on top. The big cheese curd topping is made with Culver's traditional blend of yellow and white cheddar, encased in seasoned bread crumbs. It's hard to believe it's healthy, but for just one day, it's probably worth the indulgence.