Stop Ignoring the Best Regional Fast Food Chain in the Country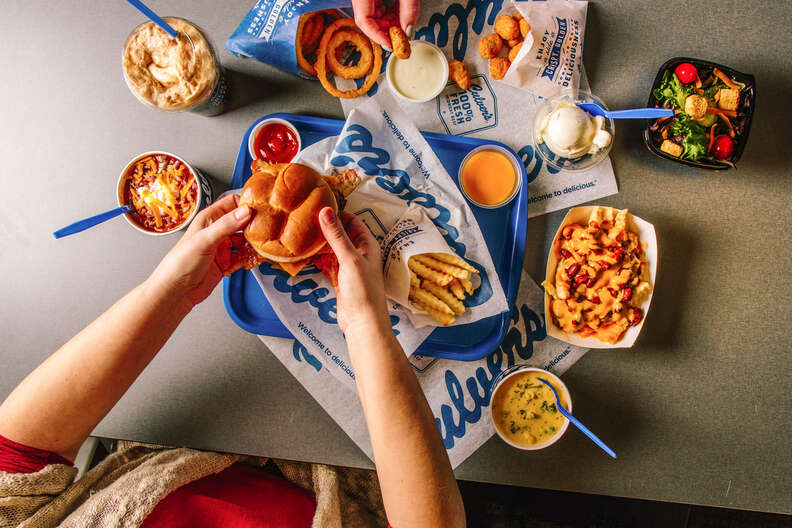 Sarah Haas/Thrillist
Sarah Haas/Thrillist
Introducing The Fasties, Thrillist's first fast food awards. Think glitzy TV and movie award show, but to honor the best things that came out of fast food restaurants in 2019. We rolled out the ketchup carpet for fast food's biggest names and handed out golden burger trophies in 16 categories. Watch the full awards show and check out the winners here.
"I want Culver's."

My wife and I were driving west along Wisconsin 29 toward Green Bay. "I'll hit the next exit," I said before completely missing the off-ramp that promised ButterBurgers. I'd made a mistake. "I want Culver's" wasn't a casual suggestion. It was a deep-seated and immediate need for that pressed burger with a seared crunchiness around the edges. That part was very clearly communicated after I missed the exit. The regional burger joint inspires this kind of passion. When I lived in Wisconsin, that familiar blue and white sign would trigger a hunger that only a small wax paper bag of greasy cheese curds could satiate.

A dozen miles and a quick "rage nap" -- her words, not mine -- later, it all seemed funny as we enjoyed a post-meal frozen custard. At the time, having moved to the East Coast, every return to the Midwest required a Culver's stop. We'd talk about it before we even boarded the plane at LaGuardia. Think we can hit Culver's on the way to your parents' house?

It was a feeling I knew couldn't be limited to the two of us. So, I asked another Midwesterner about the chain. "It's pretty much the only fast-food place that I eat at by choice," Andrew Zimmern, host of Bizarre Foods and the upcoming What's Eating America on MSNBC, told me. "I'd say I'm there twice a month."

For all the debates about In-N-Out Burger versus East Coast competitors, too many people have slept on the quiet chain where the intense word-of-mouth love is so strong that it doesn't even bother advertising. "If Culver's had started in California, can you imagine the rabid fandom that would have ensued?" Zimmern said.

And he's right.

While your favorite burger chain was battling trolls on Twitter, concocting stunt foods, or chasing the plant-based "meat" craze, Culver's has been consistently doing its thing: churning out high-quality fast food from a surprisingly expansive menu with a dairy-craving Midwestern flair. In fact, you could just look at five of its many, many side dishes and easily understand what makes it so alluring to anyone who feels the siren song of that shining blue roof glimmering off the interstate.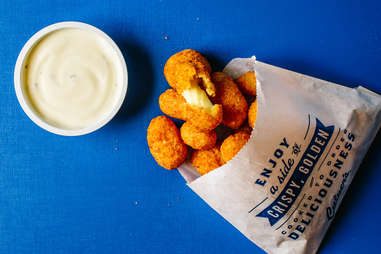 Wisconsin Cheese Curds
"We can't talk about Culver's without talking about cheese curds," Quinn Adkins, Culver's director of menu development acknowledged. "I believe very, very strongly that we helped put cheese curds on the map in the United States." While a stand or two at your local state fair might have something to say about that, there's no doubt that Culver's is slinging curds on a scale of its own making. It served more than 30 million orders in 2019 and is one of only a couple of chains, along with A&W, that offers cheese curds.

If you don't upgrade your basket to include cheese curds, I'd argue you made the wrong order. Those deep-fried cheese balls capture something about what makes this place stand out. It's a Midwestern side from a chain founded in Wisconsin. Others in this world are substituting chicken for bread or putting your meal inside a giant Dorito.

"We started serving cheese curds back in 1997," Adkins said. "It's not that we set out to lead a revolution or be a trendsetter. It's that cheese curds are very much a part of Wisconsin, and we're a Wisconsin-based company."

It feels natural, almost unnoticeable in Wisconsin or Illinois or Minnesota. But now that the chain is in far-flung places like Florida and Texas, it's easier to see how uniquely Midwestern some of these decisions have been. It's not just that every bit of cheese at every restaurant is sourced from Wisconsin, according to Adkins, but that it's implemented in ways that'd make your Packers-loving, New Glarus-swilling, whitetail-hunting uncle proud.
Crinkle-Cut Fries (and a ButterBurger, duh)
Yes, we're going through sides, but if you're getting the fries, it's because you've already ordered a ButterBurger. It has remained largely unchanged since Craig Culver co-founded the chain in 1984, with fresh ingredients, loads of texture, and that delicious, lightly buttered and grilled bun.

"When Craig was looking for those points of differentiation [to start Culver's], he remembered something that his mom, Ruth Culver, would always do was to use real butter on the buns," said Adkins. "She would toast the buns. That was the hook, the point of differentiation, that we were going to serve the best the dairy state has to offer."

The story feels like the kind of thing marketing people and political candidates would have memorized to churn out word-for-word anytime someone asks. Saying something tastes homemade is usually ignored as promotional speak, but the phrase isn't without substance at Culver's.

The ButterBurger is second to none because it tastes fresh. It's worth loading up on toppings, because the vegetables are crisp, the burger doesn't taste like a frozen patty warmed in a microwave, and the cheese, especially the cheddar, is rich and what you'd expect to get in Wisconsin. You aren't going to be served flaccid, wet lettuce or translucent, sickly tomatoes.

"It's… it's just good food," Zimmern told me, while also offering praise for NYC-based fast casual burger chain Shake Shack. "They endeavor to use quality ingredients, and you can taste the difference."

The flavors aren't buried under sauce and oil. They want you to taste what you're eating, as Adkins elucidates with the fries. "There's a very specific reason that we serve crinkle-cut," he says. "We believe it offers the best balance between a crispy fry and that deep potato flavor, that crisp and fluffy potato textural contrast." If you're only looking for crunch, you might be better off with curly fries at Arby's, but at Culver's you can actually taste the potato without sacrificing the salty, crunchy texture you want from a fast food fry.
Onion Rings (or Mashed Potatoes or George's Chili or Coleslaw or Steamed Broccoli)
Cheese curds definitely provide a glimpse at how Culver's expansive menu separates itself from the competition, but the chain's approach to differentiating itself from the competition is much deeper than dairy. You're getting the same quality you find in the more popular selections.

Placed on another menu, the onion rings might be a crown jewel, crunchy with well-seasoned batter and onions that still have some bite. The onions come out retaining a little crunch of their own and aren't going to slide out of a batter casing on your first bite, leaving you with a hollow bit of deep-fried dough in your hand.

Whether it's the underrated onion rings or the crunchy, lightly-dressed coleslaw (a favorite of Zimmern's), you basically can't go wrong. What other fast food chains offer steamed broccoli as a side? It's borderline-absurd how comprehensive the menu is. Oh, and while the ButterBurger is as deep as most people probably feel like they need to go -- totally fair -- there's a Grilled Reuben Melt, Pork Tenderloin Sandwich, a variety of chicken sandwiches, Beef Pot Roast Dinner, and a North Atlantic Cod Sandwich.
Cheese Sauce
It's not hard to remember the debacle that ensued when Chipotle attempted a queso that wasn't full of additives. At about the same time, Culver's launched a cheese sauce with less fanfare and a whole lot less backlash. (It won Best Sauce at the Fasties, after all.)

"[The cheese sauce] is something we introduced about two-and-a-half years ago, and that was a game-changer for us," Adkins said. "We really rewrote the rule book on what a cheese sauce served in a quick-service restaurant could be. It's a clean label. It has no artificial flavors, colors, stabilizers, or emulsifiers. It's made from real aged Wisconsin cheddar cheese. When you taste it, which is what I set out to accomplish, it tastes like that sharp rich cheddar cheese, and it pairs well with so many of our side items."

There's not a lot of flash on the Culver's menu, but it has often managed to find an angle that works. The Cheese Sauce is not only good, it's versatile. Beyond it being a dipping sauce, the restaurant saw the opportunity to turn it into multiple menu items. Combine George's Chili, Cheese Sauce, and Crinkle-Cut Fries and you've got Chili Cheddar Fries, which are rich and delicious with a tiny bit of spice. The small innovations aren't always exciting but result in menu items others have struggled with or simply offer in a way that isn't as good.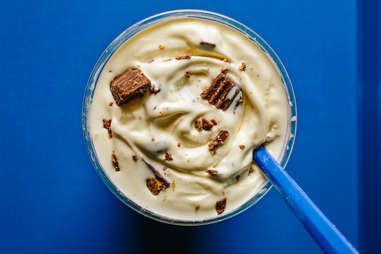 Frozen Custard
Look, this isn't an exciting subject, but the last part of what makes this chain special is its consistency. That's exemplified by the frozen custard advertised on a sign outside each location. No matter what the Flavor of the Day, you're getting it fresh. "We have a rule on quality standards where we do not serve custard that is more than three hours old," Adkins said.

You can absolutely get frozen custard all over the country. It wasn't invented in Wisconsin, but there's a strong case that the Midwest is the nation's custard capital. It's another piece of the puzzle as to why there's something deliciously Midwestern about Culver's. That wouldn't be possible without tightly managed perfection. The chain only works on one new restaurant at a time to have a hands-on approach at each location, despite every store being owned by a franchisee.

"[Consistency] is very difficult," Zimmern said, acknowledging that Culver's has managed to do it better than most. "Otherwise, everyone would be doing it. I think that people underestimate how hard duplication and scale are in the food business. [Culver's] clearly invests a lot in efficiencies and distribution and planning so that they're able to distribute and scale appropriately. That's a monstrous challenge."

It's all part of why Culver's is revered by many and why too many people are sleeping on a great fast food meal. "The In-N-Out burger and fries, which I think are the most overrated item in the business, are, compared to Culver's, tasteless and texture-less. In-N-Out's fries are cardboard and flavorless," Zimmern said. "I just think it's a vastly superior product to anyone else's."
The focus on the core menu and not having knee-jerk reactions to trends underscores that Culver's understands why diners are loyal to any fast food brand. It's not because you got to try a venison burger one time a couple of years ago. It's because you're consistently getting fresh ingredients every time you sidle up to the counter to ask a blue-aproned cashier for a ButterBurger with the exact toppings you crave.
It doesn't matter what your go-to order is, you know it's coming out hot and delicious, whether that's my pick of a Double Cheddar ButterBurger with a side of cheese curds and vanilla custard or Zimmern's standard order of "a Double ButterBurger, sliced tomato only, side of fries, side of coleslaw, and when they have their green beans, I love their green beans." Burger debates too often see the ButterBurger as flyover country. But that's fine. It just leaves more of the best sides and burgers in fast food for the rest of us.
Sign up here for our daily Thrillist email and subscribe here for our YouTube channel to get your fix of the best in food/drink/fun.