Food Recalls & Illness Outbreaks Keep Happening. Here's What to Avoid.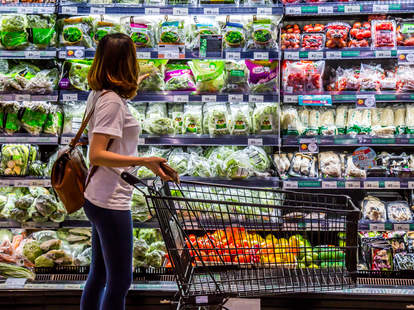 If you hadn't noticed, this summer has been the summer of food recalls. Nearly every week it seems a new food brand or restaurant chain is overcome by an outbreak of food-borne illness or contaminated product that could potentially get hordes of people sick. In fact, there are at least six multi-state food-borne illness outbreaks going on as of Tuesday.
So, rather than just play it safe by sticking to a strict diet of boiled potatoes, we've rounded up all of the stuff you should steer clear of at the moment, from McDonald's salads and Honey Smack cereal to pasta salad and turkey sandwiches. 
Fast Food and Grocery Store Salads, Wraps
An outbreak of cyclospora, a parasite that can cause some seriously gross intestinal issues, has been traced to a big batch of Fresh Express salad mixes of romaine lettuce and carrots, and it's impacted quite a large swath of the country, including a number of chain restaurants and grocery stores.
While the affected batch was not sold directly to consumers, it was used in prepped and pre-packaged items and has been linked to a cyclospora outbreak in McDonald's salads, which prompted the mega-chain to yank salads from its menus at more than 3,000 locations across 14 states. So, if you're hankering for a fast-food salad, maybe head to Wendy's or elsewhere for now. 
Additionally, the Fresh Express blend was also used in some pre-made salads and wraps sold at grocery stores including Kroger, Trader Joe's, and Walgreens, which prompted the US Department of Agrictulture (USDA) to warn the public about certain products. Specifically, the batch in question came from Indianapolis' Caito Foods and affected a number of items that are now out of date (they were made between July 15-18 and had best-used-by dates between July 18-23).
Shutterstock
Honey Smacks Cereal
If you're still partial to a bowl of Kellogg's Honey Smacks now and again, you may want to lay off for a bit. That's because the sugary cereal has been linked to an outbreak of salmonella that has sickened at least 100 people in 33 states. In response to the outbreak, every box of any size and best-by date was recalled on June 14. However, the Food and Drug Administration (FDA) has since realized that it's still for sale in some places, which is illegal. To be safe, you should probably avoid your Smacks until they sound the all-clear.
Pasta Salads
After an outbreak of salmonella was linked to its Spring Pasta Salad, Hy-Vee grocery stores recalled the item from stores in eight states, according to CNN. The salad, which contained shell pasta, carrots, celery, cucumbers, green pepper, onion, and mayo, was sold in 1-pound and 3-pound plastic containers, both of which were recalled. However, at this point you're hopefully in the clear, as the affected batch had expiration dates between June 22 and August 3. 
Shutterstock
Goldfish, Ritz Crackers, and Swiss Rolls
In response to yet another salmonella scare, this time linked to a whey powder used in a number of mass-produced foods, a couple of wildly popular snacks have been recalled. In late July, Pepperidge Farm issued a recall on four different kinds of widely distributed Goldfish crackers that were seasoned with the powder in question, including Flavor Blasted Xtra Cheddar, Flavor Blasted Sour Cream & Onion, Goldfish Baked with Whole Grain Xtra Cheddar, and Goldfish Mix Xtra Cheddar + Pretzel.
Similarly, Ritz voluntarily recalled Ritz Bits cheese cracker sandwiches and mixed cookie and cracker variety packs because they also may contain the potentially affected whey powder. The same whey-related outbreak also may have also contaminated a whole bunch of Swiss rolls produced by Flowers Foods, so that company issued a recall in mid-July for the chocolate and creme cakes, which are labeled under a number of brand names including Mrs. Freshley's, Food Lion, H-E-B, Baker's Treat, Market Square, and Great Value. 
Veggie Trays
Another outbreak of cyclospora prompted a recall of raw vegetable trays in grocery stores and markets across the Midwest. Earlier this summer, Del Monte issued a voluntary recall of various sizes of its veggie trays, which contained raw broccoli, cauliflower, celery, carrots, and dill dip after a cluster of cyclospora-related illnesses were reported. The good news is the tainted batch is well past its best by date at this point, so you don't have much to worry about.
Taco Bell Cheese Dips
Roughly 7,000 cases of Taco Bell Salsa Con Queso Mild Cheese Dip were recalled in July over concerns of potential botulism, an exceptionally bad form of food poisoning that affects the nervous system. While no illnesses have been reported, the recall was set in motion as a precaution. If you're worried, the recall applies to 15-ounce glass jars of the stuff with best by dates between December 27, 2018 and January 23, 2019.
Pre-made Turkey and Cheese Sandwiches
You may want to avoid a good deal of grab n' go pre-packaged turkey and cheese sandwiches for the moment. That's due to a recent recall issued by Lipari Foods LLC, over a potential listeria contamination. The company, which makes Premo Brand and Fresh Grab turkey and Swiss sub sandwiches that are available in various stores in 11 states, warns against eating any of their turkey and Swiss subs with sell by dates of August 6.
Imported Fresh Crab Meat
While there has not been any official recall associated with it, the FDA has warned against eating fresh crab meat imported from Venezuela for now due to a risk that it's contaminated with vibrio parahaemolyticus, which can cause serious intestinal illnesses. The warning was issued in mid-July after 12 cases associated with the contaminated seafood were reported in three states and Washington, DC. 
Almond Milk
While this one may not be a major health threat to everyone, it's worth noting that Almond Breeze recently announced a massive recall of 150,000 half-gallon cartons of vanilla almond milk due to the fact that they may contain actual cow milk. That's not to say that the cow milk in there is at all dangerous or contaminated, but for those with serious dairy allergies or sensitivities, it could be a legitimate issue. 
Sign up here for our daily Thrillist email and subscribe here for our YouTube channel to get your fix of the best in food/drink/fun.