We know all too well that the kind of porn people are watching is impacted by what's happening in the world, whether that's Game of Thrones or Easter (come on). Well, Father's Day is no exception. The day on which we honor father's around the world causes a huge spike in "Dad"-related porn traffic, according to data released by Pornhub.com.
It turns out nothing gets our engines going like cheap ties and golf tees.
Recommended Video
Harley Morenstein Eats Finger-Licking BBQ Wings
The porn giant who receives over 60 million visitors per day, saw a 1,361 percent increase in search terms related to "Dad" and "Daddy" on Father's Day 2015. That's a Father's Day bump that has to be on the magnitude of what novelty coffee mug makers see on the holiday. 
Something similar happens on Mother's Day, but only to the tune of a 190 percent search increase on related terms. 
So, at the risk of ruining what's left of Father's Day, here's a look at the dad/daddy related terms that get the most love. "Step dad and daughter" tops the list, followed by "daddy," "dad's hot girlfriend," and "Japanese daddy." There's a definite connection with the mom search terms Pornhub had previously released, where "step mom" topped the list and a simple "mom" was the third most searched term.
Also, not far behind on the dad list is "DILF." That's the dad equivalent of a MILF, which is a thing you can search, apparently. Also of surprising pornographic relevance: "dad bod."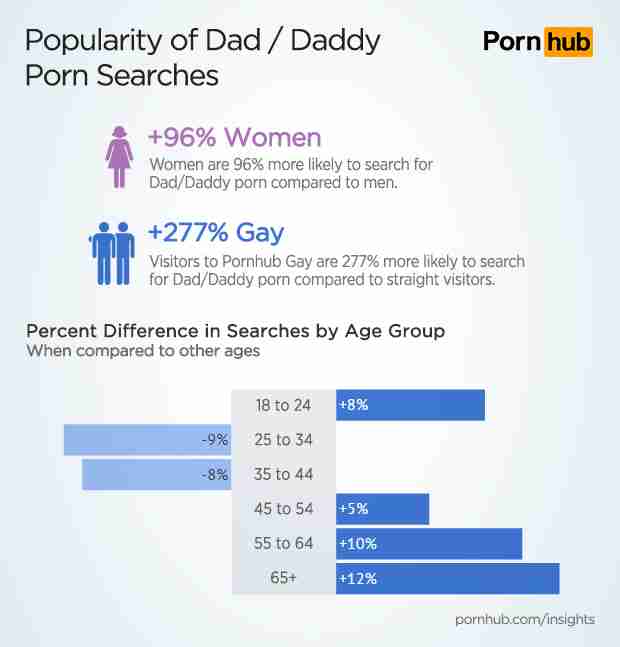 Pornhub hones in a bit on exactly who is searching for dad porn using Google's anonymous demographics data. It suggests that women are 96 percent more likely than men to search for dad/daddy porn. While visitors to Pornhub Gay are 277 percent more likely to be searching for those terms versus visitors at Pornhub.com. 
Broken down by age, visitors who are 65 or older are the most likely to search for dad/daddy porn, followed by the 55-64 demographic. Next, there's a jump down to the 18-24 age range. Visitors 25-44 are the least likely to be searching for dad porn. 
The last breakout is searches by state. The most dad porn searches originate from West Virigina, followed by South Dakota, Arkansas, Oklahoma, Mississippi, Kentucky, and Texas. At the other end of the spectrum, Maryland is the state least likely to have dad-related terms hitting the search bar on Pornhub.com. It is followed by New Jersey, Delaware, Virginia, Massachusetts, Connecticut, and Minnesota. 
While we've learned to not be surprised by much when it comes to the kind of porn others are watching, it's still surprising that Father's Day could be such a powerful catalyst for so many.
Happy Father's Day.