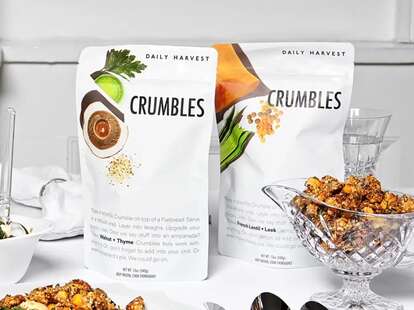 Courtesy of Daily Harvest
Courtesy of Daily Harvest
Daily Harvest is recalling its popular French Lentil + Leek Crumbles after multiple consumer complaints of stomach issues popped up on social media. What started as consumers posting about feeling ill on Twitter, Instagram, and Reddit after eating the dish turned into 470 reports of illness or adverse reactions.
Daily Harvest has reported that from "April 28 to June 17, 2022, approximately 28,000 units of the recalled product were distributed to consumers in the continental United States." The company also added, in an updated statement since the initial recall in mid-June, that the majority of sales were made through "online sales and direct delivery, as well as through retail sales at the Daily Harvest store in Chicago, IL and a 'pop-up' store in Los Angeles, CA."
Users have claimed to experience various gastrointestinal issues, from nausea and vomiting to liver damage. According to NPR, one Reddit user said their wife had symptoms, such as "extreme fatigue, dark urine, low-grade fever, and whole-body itching with no rash." Another user posted that their mom "was as sick as a dog and puking a lot" just one day after eating the bean mixture.
Bon Appétit reports that Daily Harvest is facing legal action after some users claimed to have had "their gallbladder removed, incurred around $20,000 in medical expenses, and lost income while recovering at home."
Initially, the food home delivery service posted a statement on its website cautioning Daily Harvest subscribers to discard the product. In a recent Instagram post, the company says it's taking action by "launching an investigation to identify the root cause of the health issues being reported." The company also told followers that it has been working closely with the Food and Drug Administration and multiple independent labs to investigate this issue.
If you received a Daily Harvest meal from April 28 to June 17, 2022, keep an eye out for the 12-ounce, white pouch packaging of the frozen Daily Harvest French Lentil + Leek Crumbles. Daily Harvest is urging consumers to throw the product away or email Daily Harvest at hello@daily-harvest.com.
Janae Price is a News Staff Writer at Thrillist. She's a native New Yorker and loves all things cheese, K-pop, and culture. Follow her on Instagram and Twitter @janae_larie.