Dairy Queen Is Giving Out 80-Cent Blizzards This Month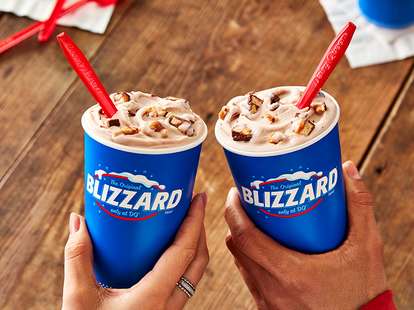 Courtesy of Dairy Queen
Courtesy of Dairy Queen
There are a few sure signs spring is on the way. You could see a robin, absolutely reach your breaking point with snow, or feel your first Blizzard craving of the year. (Just ask a Minnesotan, warmer weather is not a sign. That's as reliable as a groundhog. The first warm weather of the year is a trick.)
We're getting there because Blizzard cravings are already demanding to be sated. From March 4-15, Dairy Queens across the US are running a buy-one-get-one for $0.80 deal on Blizzards. That deal alone might be enough to trigger your need for the ice cream treat that's served upside down.
The odd price point is in recognition of DQ's 80th birthday. The price won't change based on the size you order. Though, of course, the price of that first one will.
On top of the 15 regular flavors, the offer includes March's Blizzard of the Month, a Mint Oreo Blizzard. It's a green classic that, to my midwestern mind, is as beloved a spring flavor as the Shamrock Shake.
It's worth calling ahead to your local DQ to make sure it's open for the season and participating in the deal. Now you know how to respond when grandpa says a dollar won't get you anything these days.
Sign up here for our daily Thrillist email and subscribe here for our YouTube channel to get your fix of the best in food/drink/fun.