Dairy Queen's Eclipse Deal Will Get You 99-Cent Blizzards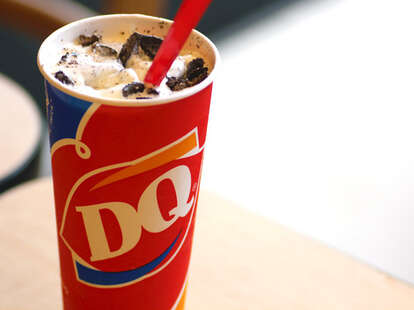 Adam Lapetina
Adam Lapetina
Now that the weekend has arrived, it seems like everyone is psyched for the Great American Eclipse. Even milk royalty is pumped. No, it's not Princess Kay of the Milky Way. Good guess, though. It's Dairy Queen, and it's going to hook you up with a BOGO Blizzard deal in honor of the day being dark for like two minutes.
The chain is offering a buy one get one for 99 cents deal on all its Blizzard Treats, which includes the new Triple Truffle Blizzard Treat. The deal kicks off on Monday, the day of the eclipse. However, if you're too busy being stuck in traffic or freaked out by the eerie silence of birds, you can still have the ice cream treat that can be turned upside down. The BOGO deal will run through September 3 at participating Dairy Queen and DQ Grill & Chill locations.
If you're traveling to the line of totality Monday, you'll probably want to take both of those Blizzards for yourself so you can stay hydrated in traffic or something. There are lots of excuses for eating two Blizzards. And if you're not going to the eclipse, Neil deGrasse Tyson has words for you.
h/t Popsugar
Wanna see the solar eclipse for yourself? Check out Thrillist's state-by-state watch guides to the best viewing spots in Georgia, Idaho, Illinois, Kansas, Kentucky, Missouri, Nebraska, North Carolina, Oregon, South Carolina and Wyoming.
Sign up here for our daily Thrillist email, and get your fix of the best in food/drink/fun.
Dustin Nelson is a News Writer with Thrillist. He holds a Guinness World Record but has never met the fingernail lady. Follow him @dlukenelson.