Dairy Queen Postpones its Free Cone Day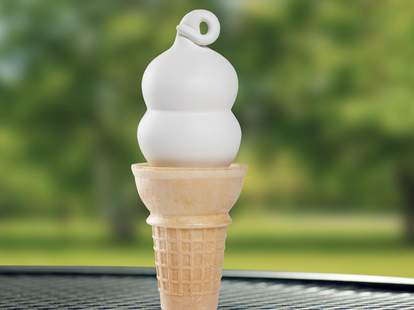 UPDATE:
Dairy Queen has decided to postpone Free Cone Day due to concerns about large gatherings and COVID-19. Similar to the canceled Cone Day event Ben & Jerry's hosts annually, the company plans to reschedule at some point later in the year.

"At DQ, we like to sweeten the start of spring with Free Cone Day, a fan-favorite event that attracts long lines at our restaurants," the company's statement reads. "In light of the growing concerns about COVID-19 (coronavirus), and the precautions established by the World Health Organization and government agencies around large public gatherings, we made the difficult decision to postpone this year's Free Cone Day, which was scheduled for Thursday, March 19 in the U.S., Canada, and Mexico. The health and wellbeing of our fans and crew members is our top priority, and we look forward to rescheduling at a later date when we know more."
That smell in the air? That's the abandoned perfume factory behind the old Wilson place. But that other smell? That's spring. It's really, finally, genuinely coming.
Ben & Jerry's may not be celebrating its annual Cone Day this spring, but Dairy Queen is celebrating the arrival of spring. DQ is bringing back Free Cone Day on March 19, the first day of the new season. Find your local, non-mall Dairy Queen to get a free small vanilla soft-serve cone. And yes, it'll come with that little curl on top. That's just as standard as a Blizzard holding its shape upside down. 
You'll only find the deal up at participating locations, so call ahead to make sure the DQ around the corner is joining in the good ice cream times.
If you can't wait that long for an ice cream, DQ is currently running a deal where you get one Blizzard for 80 cents when you buy another at full price. Kiss the snow goodbye, open your arms to the sun. Ice cream season is finally upon us.
Sign up here for our daily Thrillist email and subscribe here for our YouTube channel to get your fix of the best in food/drink/fun.