Dairy Queen Is Giving Away Free Oreo Frappés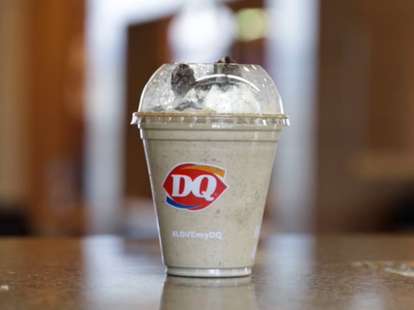 Depending on how you feel about sweaty summer days versus crisp fall jacket weather, the unofficial end of summer around Labor Day likely comes with a sense of dread or a bit of relief. But regardless of whether you're Team Summer or Team Fall, Dairy Queen is marking the occasion with something everyone can look forward to: free Oreo Frappés.
Here's the deal:
To celebrate the changing seasons and reward you for surviving a brutally hot summer, participating Dairy Queen outposts across the country will give you one small Ultimate Oreo Frappé for free from 2pm to 5pm on Tuesday, September 6th, according to a press release from the company. Dairy Queen describes the Oreo-filled coffee treat as "a combination of coffee, ice and Oreo cookie pieces blended with creamy DQ signature vanilla soft serve and crowned with whipped topping and Oreo cookie pieces." Unsurprisingly, the promotion is limited to one free Frappé per person.
Of course, you can never go wrong with Oreos, coffee, and ice cream blended together as one, but maybe getting it all for free this time will make the imminent end of summer just a little easier to endure.
h/t Brand Eating
Sign up here for our daily Thrillist email, and get your fix of the best in food/drink/fun.
Tony Merevick is Cities News Editor at Thrillist and thinks everything tastes better with crumbled Oreos on top. Send news tips to news@thrillist.com and follow him on Twitter @tonymerevick.