Plant-Based Chicken That Actually Pulls and Tastes Like Chicken Is Here
Courtesy of Daring Foods
Courtesy of Daring Foods
Plant-based meat, something that was a fringe food and even scoffed at not too long ago, has overtaken restaurant menus and grocery store shelves this year. It's hard to come by a major burger chain that doesn't serve either the Impossible Burger or a Beyond Meat patty. Costco carries Beyond meat now. There are even eggless eggs that curdle and scramble like real eggs, to accompany our Beyond sausage. Sustainability, and the desire to decrease our normal intake of animal products, have created this exciting influx of vegetarian-friendly options.
But one thing that has repeatedly been missing from most of the conversation surrounding plant-based meats is a product that replicates the taste and texture of chicken. Sure, we've had our frozen patties of Morningstar that don't necessarily taste like chicken, but appeal in their own way. And yes, KFC did do a limited launch of vegan fried chicken for a single day that completely sold out and confirmed there is a demand for the product. But aside from that, it seems like chicken has been utterly avoided. It's perplexing, especially following the crazed summer of the chicken sandwich, and also because chicken is so widely consumed.
All that, however, is about to change. A company has unlocked the unrealized potential in a plant-based product that shockingly tastes like chicken.
Daring chicken is kind of an oxymoron, but here we are and it's good.
I met with the CEO of Daring Foods, Ross Mackay, on a gloomy Monday morning to try "a chicken alternative that mimics chicken in texture and taste." The product is composed of only five ingredients -- with soy as the main protein -- and is both gluten-free, palm oil-free, and free of GMOs. I genuinely wondered how good it could actually taste.
To my surprise, the answer is: very good. And very much like chicken. Mackay cooked strips of the vegetarian-friendly chicken over a hot pan, sans salt and seasoning so I can taste the protein in its purest form while I volleyed questions at him. Throughout our conversation, I could hear the "chicken" sizzling and watched as it browned like real strips of white meat.
"I don't eat meat, but I still wanted to enjoy food."
I would compare the flavor and texture of Daring's "chicken" to actual chicken breast. The taste is relatively mild, as white meat chicken is. It somehow has the same fibrous texture that chicken gets when it's pulled. I chewed slowly and thoughtfully to try and prove to my brain that what I was eating wasn't actually meat, but soy. But even I, and my tastebuds, were fooled. The seasoning incorporated in the soy blend -- a mixture of pepper, paprika, ginger, mace, nutmeg, and cardamon -- reminded me of the savoriness of roasted mushroom. But overall, it genuinely and pleasantly tastes like chicken that's undergone the Maillard reaction.
How did Daring Foods come to be?
Mackay grew up playing sports and even represented his home country of Scotland in international tennis matches. As an athlete, fitness is a high priority for him and what motivated him to become vegan in the first place.
"I actually went plant-based about five and a half years ago and haven't had any animal products since. Along the way, I was really missing out on the protein element and the experience around food," Mackay began, regarding the beginnings of Daring. "I was always the customer who didn't get invited to the dinner parties. I don't eat meat, but I still wanted to enjoy food."
So, Mackay and his co-founder, Eliot Kessas, set out to make a plant-based product that tasted like the food he'd previously craved. "We really wanted to challenge that space between health and taste."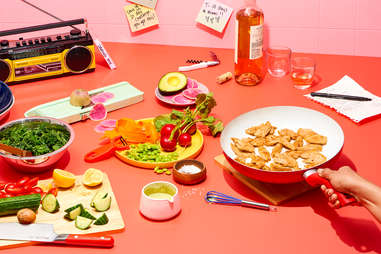 The product has been in development for just under three years. Mackay noticed what Beyond Meat and Impossible Foods were doing in the plant-based sector for red meats and wanted to achieve something similar for white meat.
As of now, Mackay said Daring's main mission is to "really to bring the meat eaters into eating less meat. We don't necessarily target only vegans." The priority is also to sharpen and maintain a delicious chicken alternative, rather than stepping on the toes of the feuding giants in the red meat space. Mackay acknowledges that there will be different iterations of "chicken" to come, like a "chicken" breast version, lemon and herb seasoned "chicken," and even a peri-peri one all in due time.
OK, I'm sold. How do I get it?
Daring is launching its direct-to-consumer "chicken," in partnership with Rastelli Food Groups, in February 2020. Consumers will be able to order the chicken, which arrives in frozen strips and can be cooked without being thawed in about eight minutes, to make their own vegetarian-friendly entrees. The "chicken" can be battered and fried, tossed in a wok with stir fried veggies, or grilled on a barbecue. The possibilities are... much the same as with regular chicken.
In addition to that, Mackay hinted that the plant-based protein would be arriving at a nationwide retailer very soon, as well as at restaurants, but wouldn't say anything about which one and exactly when.
Either way, it appears that the growing trend of plant-based meats is yet to slow down. My prediction is that 2020 will contain more competitors carving out their space in the world of vegetarian-friendly meats, cheeses, milks, and ice creams. With sustainability at the forefront of the conversation surrounding meat alternatives, I have to say that it's a pretty commendable, and daring, thing to do.
Sign up here for our daily Thrillist email and subscribe here for our YouTube channel to get your fix of the best in food/drink/fun.
Kat Thompson is a staff writer at Thrillist who has extensively covered plant-based proteins. Follow her on Twitter @katthompsonn.