The NYC Subway Is Selling David Bowie-Themed MetroCards. Here's How to Get Them.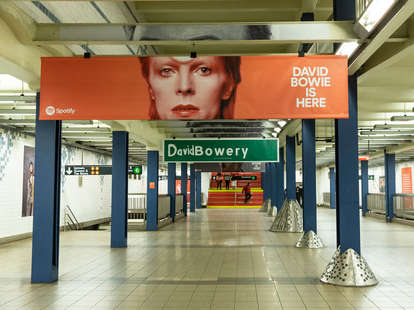 New York City's subway system may be riddled with egregious issues that leave its riders stranded underground for hours on end and serially late to work, but it sure does know how to pull off a cool branded collaboration. Case in point: its latest release of limited edition David Bowie-themed MetroCards, which come decked out with photos of late music icon from various periods in his career.
Could this be a sign of some other positive ch-ch-ch-changes coming to the sprawling mass-transit network's infrastructure? Probably not, but hey, it's still cool.
The Metropolitan Transit Authority's latest foray into branded MetroCards follows similar pop culture-themed collaborations, like last year's Twin Peaks- and Supreme-themed versions of the typically dull yellow cards riders swipe at turnstiles. The Bowie-themed run was sponsored by Spotify to celebrate the boundary-pushing rocker and longtime New Yorker, who died a little over two years ago. The release also coincides with a new and critically lauded David Bowie exhibit currently running at the Brooklyn Museum.
According to the MTA, they've printed 250,000 Bowie cards in total, and they can be purchased at the Broadway-Lafayette and Bleecker St stations. There are five versions featuring different iconic images though they'll set you back $6.50 a pop, because they have a two ride minimum on them.
In addition to the Bowie-themed MetroCards, the Broadway-Lafeyette station has also been transformed into a temporary pseudo-memorial to the late artist, who lived for a long time just a couple blocks from the station. It's adorned with lots of images and silhouettes of him as well as excerpts of his lyrics, and essentially serves as one giant ad promoting the Brooklyn Museum's "David Bowie is" exhibit. However, considering the glam rock icon's connection to New York it feels a lot more like a legitimate art installation itself.
There's no word yet on how long the Broadway-Lafayette Bowie-themed adornments will remain up, but it's safe to assume the cards will go fast, as collectors are already scrambling to pick up all five versions.
h/tPitchfork
Sign up here for our daily Thrillist email and subscribe here for our YouTube channel to get your fix of the best in food/drink/fun.