These Human Skull Logs Will Make Your Home Firepit Immeasurably Disturbing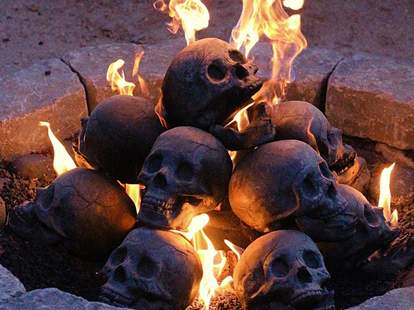 If you've been meaning to gently stoke fear among your pesky, nosy neighbors but haven't figured out how best to do it, may we suggest investing in a set of these Human Skull Logs and prominently scattering them in your backyard firepit. 
Myard
These morbid curiosities -- each roughly the size and shape of an adult human skull -- are fashioned from the same sort of steel-reinforced, high heat-resistant ceramic material that NASA uses to test on rockets, meaning they'll easily endure being whipped by flames in your firepit/fireplace since they're designed to handle temps up to 3,000 degrees Fahrenheit. They're also totally weather-resistant and each weigh a hefty 10 pounds, so you can safely leave them strewn about outdoors year-round -- you may want to keep a closer eye on them though considering they're $65 apiece. And if the charred black model doesn't evoke quite the sinister vibe you're striving for, there are also versions available in brown or white.
Sign up here for our daily Thrillist email, and get your fix of the best in food/drink/fun.
Joe McGauley is a senior writer for Thrillist and wishes these were also available in gold.