Everyone Is Trying to Replicate This Soccer Player's Impossible Hand Gesture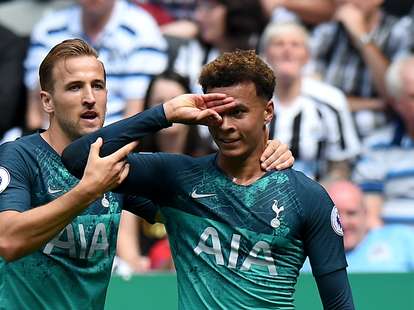 Tony Marshall/Getty Images
Dele Alli, 22-year-old wünderkid and professional footballer for the English Premier League's Tottenham Hotspur, caught some attention for flashing a peculiar hand sign after scoring a goal last week against Newcastle United.
The celebration itself was basically an optical illusion -- an upside-down "ok" sign made with your index finger and thumb, with with the middle, ring and pinky fingers resting against your forehead -- so the internet was quickly rhapsodized by the young man's gesture.
The move is intentionally tricky, and the legions of folks who wracked their brains trying to master it naturally documented their efforts on social media, giving birth to the #DeleAlliChallenge.
Some people struggled mightily to do justice to Alli's move, like talkSPORT radio host Andy Jacobs. As an older gentleman unwise to the ever-fickle tastes of media-addled youth, Jacobs couldn't quite figure it out:
One man in Brazil clearly wasn't interested in studying the move to perfection:
Others weren't that enthusiastic about it either:
But those who successfully managed to pull it off were quick to gloat about the accomplishment on Twitter:
And for those struggling to keep up, a variety of tutorials were made:
It remains to be seen whether Alli's viral stardom will help his team win a trophy this season.
h/tMashable
Sign up here for our daily Thrillist email and subscribe here for our YouTube channel to get your fix of the best in food/drink/fun.