Delta Flights Now Offer Espresso Martinis & Decadent New Desserts
The new food and beverage options are available starting today.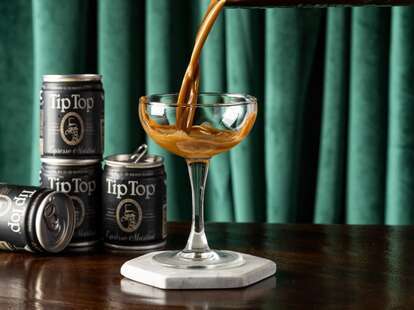 Photo courtesy of Delta
Photo courtesy of Delta
Think about it as treating yourself, literally. Delta Air Lines is about to make your flight even more enjoyable with the help of a relaunched dessert cart, traditional afternoon tea, and delicious espresso martinis and rose wine.
Throughout March, select domestic and international Delta flights will introduce a variety of new drinks. The Tip Top Cocktails' Espresso Martinis will be served on flights starting on March 14, just a day before National Martini Day. In honor of the occasion, on March 15, Delta is giving away 5,000 espresso martinis to travelers age 21 and up who on one of the 16 daily flights between JFK and LAX or LAX and JFK.
If you're a Delta One first class customer looking for something lighter to wind down, you will also be able to opt for a tasty rose wine from St.Tropez, and you'll also get the chance to order the traditional afternoon tea menu featuring warm scones, Thrive Farmers tea, tea sandwiches, clotted cream, strawberry jam, and even mini pastries.
The dessert cart will also be rolled by Delta One customers, who will be able to customize their dessert experience. Guests will be able to choose a build-your-own ice cream sundae option, as well as high-quality fruit and cheese plates, and more classic desserts like opera cake with chocolate ganache. United similarly announced the return of its sundae cart after a pandemic-related absence recently.
"Your onboard meal or beverage should be no different than your go-to restaurant at home, and that's why we're constantly reinventing our onboard service at Delta—we always want to surprise and delight our customers with seasonal and fresh menu options," Kristen Manion Taylor, the SVP of in-flight service at Delta, said in a statement. "From delicious Spanish tapas plates to refreshing rosé, there is something new for everyone to enjoy."
This isn't the only new upgrade coming to Delta customers—the airline has also recently made waves with its plans to roll out free Wi-Fi to its flights.