Another Major Airline Just Made In-Flight Drinks More Expensive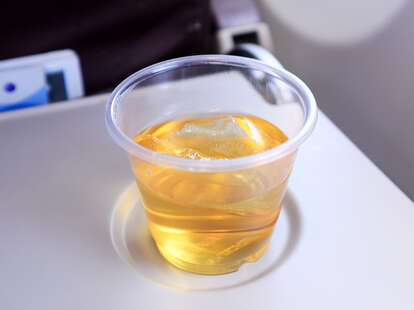 In many ways, it's never been cheaper to fly, considering the number of airfare deals on long-haul trips and even transatlantic flights these days. Still, airlines are finding all kinds of sneaky ways to charge economy class passengers more for seemingly basic amenities like checked baggage and even seat selection. And now, you can expect to pay more for you in-flight gin and tonic or glass of chardonnay, too, because one of the world's biggest airlines just announced that it's raised prices on alcoholic drinks.
As of December 1, passengers flying economy on Delta can expect to pay $1 more for in-flight alcoholic beverages, as the airline quietly upped its prices on booze. It may not seem like a huge bump, but it means you'll now be paying $9 for featured cocktails, wine, imported beer, or liquor, and $8 for domestic beer. However, sparkling wine fans are spared from the hike, since that will remain at $9.
Of course, if you're paying for a premium seat in Delta Comfort+ or above, you'll still receive complimentary beer, wine, and cocktails during your trip. Also, passengers in all cabins will still get free alcoholic beverages when flying internationally.
Delta's hike follows similar price increases for booze on popular carriers like American Airlines and Southwest, both of which raised the cost of in-flight alcohol earlier this year. Then again, in many cases what you pay for a drink in the sky will still be cheaper than what they cost in overpriced airport bars.
Though, there's always a chance that if you play your cards right, you may actually be able to drink for free.
h/tFood & Wine
Sign up here for our daily Thrillist email and subscribe here for our YouTube channel to get your fix of the best in food/drink/fun.