Plane Makes Emergency Landing So Passengers Can Poop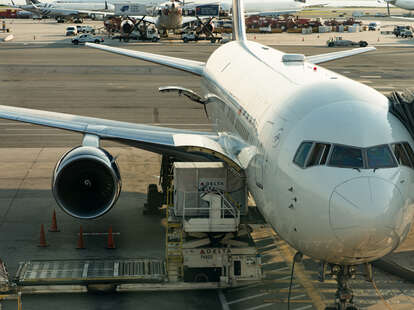 Shutterstock
Shutterstock
Emergency landings don't happen frequently, for good reason. But when they do, you'd assume they have nothing to do with the bathroom needs of passengers onboard. But that wasn't the case last Saturday, when a Delta flight journeying to Seattle from New York had to make an emergency pitstop in Billings, Montana so passengers could relieve themselves after the plane's bathrooms ceased to function.
When the plane landed, bowels were released and tensions were relaxed, albeit in the confines of an airport bathroom. According to a Delta incident report, the situation became severe when the toilets "ceased functioning, with passengers queuing up and indicating they needed to visit the toilet." After landing in Billings, the plane had to taxi to a cargo area because, fittingly, there were no gates to accommodate the horde of people who urgently needed to release gastrointestinal fury. Amid the commotion, there were several "passengers that needed to find a lavatory very urgently," per the incident report.
As the Billings Gazette reports, the six-hour flight resumed its course after passengers were able to handle their business in the airport terminal. The bathrooms onboard the plane were also serviced and fixed while the plane was refueled.
When you think about it, this story might just be the quirkiest reason for an emergency landing to date, considering the legend of a rank fart clearing an American Airlines flight turned out to be just a stinky rumor.
Sign up here for our daily Thrillist email and subscribe here for our YouTube channel to get your fix of the best in food/drink/fun.

Sam Blum is a News Staff Writer for Thrillist. He's also a martial arts and music nerd who appreciates a fine sandwich and cute dogs. Find his clips in The Guardian, Rolling Stone, The A.V. Club and Esquire. He's on Twitter @Blumnessmonster.