Delta Threw Shade at United for the Leggings Controversy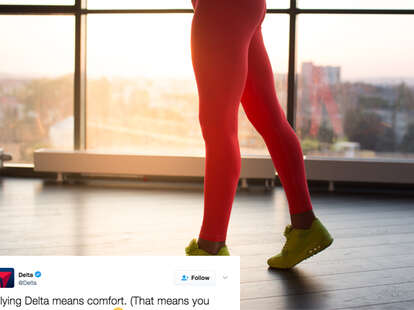 Shutterstock | Twitter Screengrab
Delta saw a competitor suffering a little turbulence and used Twitter to take a shot. Monday the airline issued what might have otherwise seemed like a casual tweet about in-air attire, but it was a serious subtweet aimed at United.
Last week, United was at the center of controversy when a Minneapolis gate agent reportedly forbid three young women, including a 10-year-old girl, from boarding a plane because they were wearing leggings. The gate agent determined the women weren't "properly clothed." United tried to defend the decision, saying the girls were a part of a "company benefit travel" program with stricter attire requirements because they were employees or guests of employees.
But that, of course, only stoked the fire.
Naturally, a little corporate subtweeting was a big hit on Twitter, with many doling out digital high fives and promises of future business.
However, it's worth noting that most airlines have some kind of dress code. In fact, as written, Delta's rules aren't that different from United's. The airline's Contract of Carriage says it won't let you board if you're barefoot or have "a malodorous condition." It also lists vague but stricter conditions for dress with its Buddy Pass Rider system, the Delta equivalent of what the three girls in leggings were traveling with United.
Following leggings-gate, United tweeted out its Contract of Carriage and cited Rule 21 and the portion that says it can refuse service to passengers "who are barefoot or not properly clothed." Though, United later stepped that back a bit to specifically point to the pass rider guidelines.
"When taking advantage of this benefit, all employees and pass riders are considered representatives of United," the statement read. "And like most companies, we have a dress code that we ask employees and pass riders to follow. To our regular customers, your leggings are welcome."
You say potato; they say potato.