Your Dog or Pet Could Get Its Portrait Drawn to Become the Star of a New Beer Can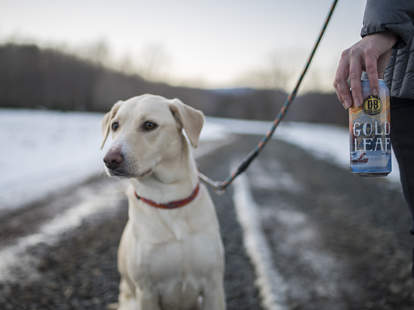 Courtesy of Devil's Backbone Brewing
Right now, people are spending a lot of time with the things that matter most. That'd be their dog and their favorite beers. It might seem too good to be true, but these things can come even closer together than your dog resting its head on your leg while you throw back a can of your standby.
Devils Backbone Brewing, based in Virginia, is running its second-annual contest to get your good pup on a can of Gold Leaf Lager. Though, this year, any pet is eligible. It doesn't have to be a dog. So, have a good talk with your chinchilla, python, or hippogriff about whether or not they'd like to enter the modeling game. Pet parents can submit photos of their best bud enjoying an adventure to get that furry (or scaly) friend on a can of the good stuff.
via Devil's Backbone website
Through June 30, people can enter their handsome creature at the Devils Backbone site. The photo should have something to do with the theme of "Adventure." "Whether it's a pic from a hike last summer, a photo inspired by an adventure they hope to take in the future, or an adventure they're currently having safely at home," the brewery says.  
The dog-loving brewery will pick 100 finalists after the deadline and host online voting from there to whittle it down to five winners that get their portrait drawn by artist Brian Edward Miller for Gold Leaf cans. Additionally, during that initial entry period, if you've adopted or are fostering a pet are eligible for a $100 gift card for pet supplies after showing proof of adoption or foster from a registered non-profit shelter. That's a nice little bonus for anyone who has adopted and made a new friend while staying at home.
Sign up here for our daily Thrillist email and subscribe here for our YouTube channel to get your fix of the best in food/drink/fun.