Everyone knows the world's biggest websites profit off user data. It's especially true on Facebook, where users willingly hand over intimate details about their lives. But with a feature highlighted by the Independent, you can get a glimpse of what kind of data Facebook has about your life, as well as see a crapload of the things you've done on the social network.
So, what is Facebook storing? Actually, quite a bit. It ranges from details about your computer and location, to every post you've ever made, including ones you've deleted. They also store the names of every friend that you've unfriended (but not the ones who have unfriended you. That's still just a legend told by spambots). 
Recommended Video
Get Lucky With This Next-Level St. Paddy's Day Meal
Getting the data is easy. Start by heading over to "Settings."
 

In "Settings," find the link that says "Download a copy of your Facebook data." Click that. On the next page, click the big green button that says "Download Archive."
Then you wait.
Facebook zips up your data into a single zip file and emails it to you. Depending on how much data you have in there, it could take five to 10 minutes. 
Inside you're going to have a ton of intimidating files on your hands, once you decompress. But the good folks at Facebook don't just know how to collect your data; they know how to organize it for easy viewing.
 
The files arrive in HTML format. Open "index.htm" and you can access all of the files right from the internet browser of your choice.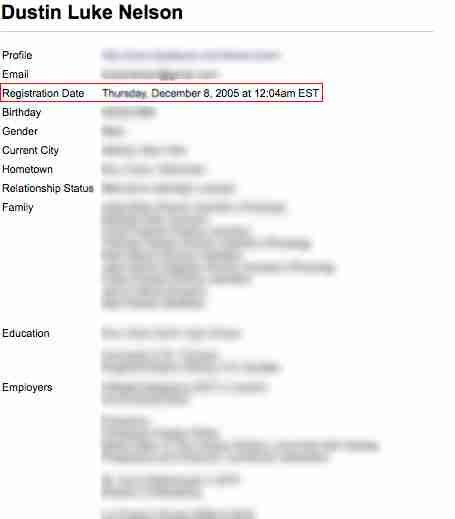 Right on that main index page, you're going to see a lot of things Facebook knows about you. That includes the day you registered, personal information like your birthday, and a list of family members (that includes the names of family members who sent you a request, but were ignored).
It also has all of your past relationships. I never added any relationships until the one that's there, but if you've left a wasteland of forgotten relationships in your wake, they'll all be there in a category called "Past Relationships" underneath "Relationship Status."
Also included are past employers (even if you've deleted them), pages you've liked, music and movies you've said you like, groups and networks you've joined, apps you've given access to your profile (even if you discontinued their access), and any pages you admin (only current ones). 

Next up is the start of your personal house of horrors (depending on how you feel about those "Past Relationships"): The timeline.
It's got everything. What you posted, who you friended, and what others have posted on your wall, all the way back to your Facebook infancy.
Mine begins with this weirdly ominous message from some unnamed person. I really have no idea what this is about, but my first act as a denizen of Facebook was to be contacted about a damaged painting and I guess my Mom stole someone's book?
Next up, a history of all your photos. Each photo (all of 'em), includes the data Facebook holds with those photos, like the date uploaded, IP address it was uploaded from, details on the device it was uploaded from, and, if you have that feature turned on (I do not, so it's not pictured above) the location the photo was taken at. It also has "Facial Recognition Data" on those photos.
In the "Friends" section there's a lengthy (or not lengthy) list of your friends. At the bottom of that list is a list of people you sent friend requests who never responded or declined (I thought we hit it off, Gene), a list of people who sent you friend requests but you never responded to or declined (who are you, Lisa?), a list of friends that you have un-friended, and all the people who follow you.
There's also this strange "Friend Peer Group" designation that pegs who you are, most likely for advertising purposes, but read like judgmental fortune cookies with scrolls like "Starting Adult Life" or "Established Adult Life." 
Also in the download is message history (easier to sift on the actual site), a history of pokes (remember those?), "Mobile Network Connection Quality" data, events you've been invited to or attended, and a list of survey responses.
Under the "Security" link there's a massive list of every time you've signed into Facebook, complete with the date and time (yikes), your IP address (yikes), details on your browser (yikes), "Recognized Machines," and more.
There's a lot in there and you could sift it for hours. It's a good reminder that Facebook friends and publicly declaring you love Psy are temporary, but Facebook's data is forever.