This Company Will Serve You Dinner Suspended 150 Feet In The Air
The scourge of airline food has pretty much ruined the novelty of dining in the sky, but the folks at Dinner In The Sky are doing their part to change that. The company is currently hosting wildly unconventional above-the-Earth dinner parties where guests, chefs, and waitstaff are all strapped onto a modest pedestal platform and hoisted by crane to enjoy their meal suspended 150 feet up in the air. Acrophobes, consider this your trigger warning.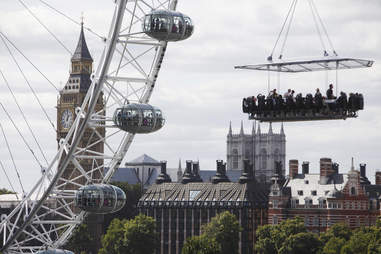 London

| Dinner In The Sky
DITS began back in 2006 as a project by a PR agency and an amusement park company that specialized in crane-based bungee jumping, who realized if people were willing to pay to hurl themselves from a platform in the sky, plenty would be willing to pay just to go up there to eat and drink. Since its inaugural meal, which hosted 22 young European restaurant owners, the company has put on nearly 5,000 similar aerial events in 45 countries, many of them looking out over the world's most remarkable landmarks and vistas.
Toronto

| Dinner In The Sky
Before liftoff, guests are strapped into three-point harness seats, which they're restricted to for the duration of the event (roughly 70 minutes), full bladders be damned. Alternately, chefs and waitstaff are harnessed in, but with a mechanism that allows them to move relatively freely around the middle part of the platform so they can do what they need to accommodate everyone. This isn't some hokey run-of-the-mill meal prepared by so-so line cooks unfazed by heights, either. In fact, a number of the events DITS has put on have been overseen by some of the world's foremost chefs. 
Brussels

| Dinner In The Sky
DITS doesn't limit itself just to meal-based events. They've hosted up-in-the-air lounges, special PR parties, and even weddings. Meals are their mainstay, though, and they host dozens of them around the world every year for those lucky enough to snag tickets before they sell out. According to the DITS calendar for the rest of this year, there are opportunities to experience them almost every week through the end of September in places like Mexico, Slovenia, Greece, Germany, and the UK. You also don't necessarily have to go up for an entire dinner -- they host brunches, lunches, wine tastings, and even cocktail hours as well -- all of which are shorter in duration, and cost considerably less per person. The marquee dinner experience itself will set you back up to $289 (though prices vary depending on location).
To scope out the DITS events and availability for the rest of the season, check out the official website.
Sign up here for our daily Thrillist email and subscribe here for our YouTube channel to get your fix of the best in food/drink/fun.